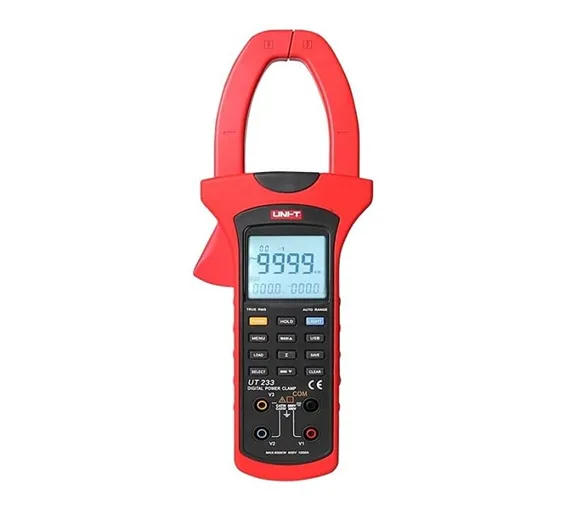 UNI T UT233 Digital Power Clamp Meter is an intelligent, handheld and stable power and harmonics clamp meters, with functions of digital ammeter and power meter. This UT233 tong tester can measure voltage, current, active/reactive power, power factor, phase angle and more. This best digital clamp multimeter can be applied in power equipment/supply, circuit measurement, and grid power quality evaluation.
Features Of Multimeter UNI-T UT233 Clamp Wattmeter:
999-group data storage; single/continuous recording and data recall available.
True RMS voltage/current measurement.
3-phase 3-wire, 3-phase 4-wire and single-phase 2-wire measurements.
10000 counts LCD dual display.
Adjustable sampling rate.
Max/Min modes.
Auto range, auto power-off, backlight, low battery indication.
Equipped with USB interface and PC software CD.
Specifications Of UT233 True RMS Digital Clamp Meter Phase Sequence Tester:
AC Current (A): 40A/100A/400A/1000A ±(2%+5)
AC Voltage (V): 15V/100V/300V/600V ±(1.2%+5)
Frequency (Hz): 20Hz~500Hz
Active Power (W): 0.01KW-600KW ±(3%+5)
Apparent Power (VA): 0.01KVA~600KVA ±(4%+5)
Reactive Power (VAr): 0.01KVAr~600KVAr ±(4%+5)
Power Factor: 0.3~1 ±(0.02%+2)
Phase Angle (°): 0°~360°±1°
Active Energy (Wh): 1~9999KWh ±(3%+2)
Display Count: 10000
Auto Range: Yes
Jaw Capacity: 50mm
True RMS: AC Voltage/AC Current: Yes
Auto Power Off: Yes
Low Battery Indication: Yes
Data Hold: Yes
MAX/MIN: Yes
Data Logging: 99
USB Interface: Yes
LCD Backlight: Yes
Analogue Bar Graph: 51
Full Icon Display: Yes
Single-Phrase 2-Wires: Yes
3-Phrase 3-Wires: Yes
3-Phrase 4-Wires: Yes
Phase Sequence Test: Positive Phase, Reverse Phase, Phase Deficiency
Auto Calibration: Yes
Input Impedance for DCV: Around 10MΩ
Power: 1.5V Batteries(LR6) * 4 (not included)
LCD Size: 46mm * 42mm
Product Net Weight: 601g
Product Size: 303mm * 112mm * 39mm
Product Colour: Red and Grey
Package Size: 36 * 28.5 * 10cm / 14 * 11.2 * 3.8in
Package Weight: 2328g / 5.1lb
Package Includes:
1 x UNI-T UT233 clamp meter module
4 x Test leads
4 x Alligator clips
1 x Battery
1 x USB cable
1 x Case
1 x User manual and software
Pakistan best online shopping website for UNI T UT233 Digital Power Clamp Meter Digital Clamp Multimeter Tong Meter Power Clamp Tester Tong Tester in cheap price in Karachi, Lahore, Islamabad, Rawalpindi, Sukkur, Peshawar, Multan, Quetta, Faisalabad and all over Pakistan.
SKU:

TMD1,Th6,KRT

/
Category: Meters
/