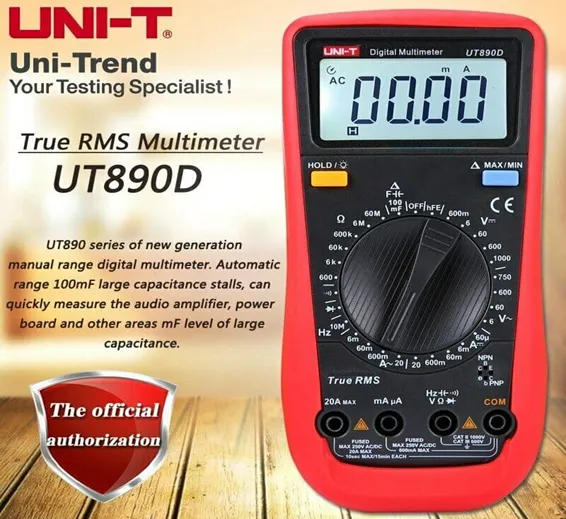 A digital multimeter is a test tool used to measure two or more electrical values principally voltage (volts), current (amps) and resistance (ohms). UNI T True RMS DMM is a standard diagnostic tool for technicians in the electrical/electronic industries. The UNI-T UT890D 6000-count true RMS digital multimeters are designed with a large LCD display. UNI-T Digital Multimeter UT890 is ergonomic design, comfortable and solid. UT890D digital multimeter is a cheap accurate multimeter for very tight budgets.
Features Of True RMS DMM UT890D:
True RMS measure for Current and Voltage. 6000 Counts display range.
It has an LCD backlight
REL function for Capacitance measuring. Minimum resolution rate 1pF, Maximum measuring range up to 6000uF.
Overload protection up to 600V for Capacitance, Resistance, Buzzer, Diode, and Frequency measuring.
High accurate frequency measuring function. Minimum resolution rate 0.001Hz, Unique (MAX-MIN) value calculate function.
Frequency respond is (40Hz~1KHz) (Sine Wave, triangular wave)
Data hold, backlight, Auto-off. One 9V6F22 Battery Included.
Specification OF Digital Multimeter UT890D:
Input Impedance for DC Voltage Measurement: 10M
Power supply: 9V6F22 Battery (Battery Included)
LCD screen dimension: 63mm*29mm
Safety grade: CE / CAT.II 1000V / CAT.III 600V
External dimension: 186mm*91mm*39mm
DC voltage:
600.0mV: ±(0.5%+4)
6.000V/60.00V/600.0V: ±(0.5%+2)
1000V: ±(0.7%+10)
AC voltage :
6.000V/60.00V/600.0V: ±(0.8%+3)
750V: ±(1.0%+10)
DC Current:
60.00uA/6.000mA/60.00mA: ±(0.8%+8)
600.0mA: ±(1.2%+5)
20A: ±(2.0%+5)
AC Current:
6.000mA/60.00mA: ±(1.0%+12)
600.0mA: ±(2.0%+3)
20A: ±(3.0%+5)
Resistance:
600.0Ω: ±(0.8%+5)
6.000kΩ¸/60.00kΩ¸/600.0kΩ¸/6.000MΩ: ±(0.8%+3)
60.00MΩ:± (1.0%+25)
Capacitance:
6.000nF: ±(5.0%+35)
60.00nF ~ 600.0uF: ±(2.5%+20)
6000uF: ±(5%+10)
Frequency:
9.999Hz ~ 9.999MHz: ±(0.1%+5)
Frequency Measuring range:
10Hz~10MHz (Auto range)
≤100kHz: 100mVRMS≤ Input ≤30VRMS,
>100kHz~1MHz: 200mVRMS ≤ Input ≤ 30VRMS,
>1MHz: 600mVRMS ≤ Input ≤ 30VRMS
Package includes:
1x UNI T True RMS Digital Multimeter UT890D Best Online Shopping website for UNI T UT890 Digital Multimeter AC DC Voltmeter Ammeter Resistance Capacitance Tester in cheap price in Karachi, Lahore, Islamabad, Rawalpindi, Sukkur, Peshawar, Multan, Quetta, Faisalabad and all over Pakistan.
SKU:

TMD1,Th6,KRT

/
Category: Meters
/