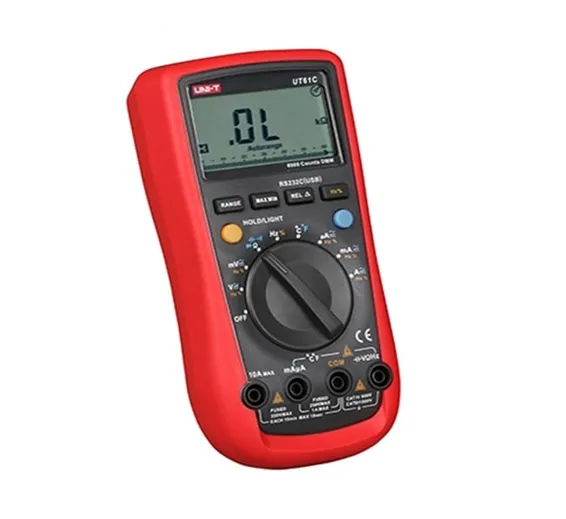 UNI-T UT61C digital multimeter is a high-quality multifunction pocket multimeter. This convenient best digital multimeter is powered from a 9 V battery. UNI-T UT-61C unity multimeter is characterized by multiple measurements (voltage, current, resistance, capacitance, frequency, temperature) and tests (diode, continuity) and auto power-off function, analogue bar graph, data hold function. This multimeter tester is an auto range meter with 6000 display count, featuring 61 segment analogue bar display and 1kHz bandwidth.
Features Of Best Multimeter For Electricians UT-61C:
Auto range
MAX/MIN/REL mode
Auto power off
LCD backlight
RS-232 and USB interface
Analog bar graph
Low battery indication
K-type temperature probe
Diode/continuity buzzer
Data hold
Input protection
Specifications Of UNI-T Multimeter UT61C:
Model: UT61C
DC Voltage (V): 60mV/600mV/6V/60V/600V/1000V ±(0.5%+1)
AC Voltage (V): 60mV/600mV/6V/60V/600V/750V ±(1.0%+3)
DC Current (A): 600μA/6000μA/60mA/600mA/6A/10A ±(1.0%+3)
AC Current (A): 600μA/6000μA/60mA/600mA/6A/10A ±(1.2%+5)
Resistance (Ω): 600Ω/6kΩ/60kΩ/600kΩ/6MΩ/60MΩ ±(1.0%+2)
Capacitance (F): 40nF/400nF/4μF/40μF/400μF/4000μF ±(3.0%+5)
Frequency (Hz): 10Hz-10MHz ±(0.1%+4)
Temperature (°C): -40°C~1000°C ±(1.2%+3)
Temperature (°F): -40°F~1832°F ±(1.2%+4)
Display Count: 6000
Auto Range: Yes
Bandwidth (Hz): 45Hz~1kHz
Duty Cycle: 0.1% ~ 99.9%
Diode: Yes
Auto Power Off: Around 15 minutes
Continuity Buzzer: Yes
Low Battery Indication: ≤7.5V
Data Hold: Yes
Relative Mode: Yes
MAX/MIN: Yes
RS-232: Yes
LCD Backlight: Yes
Analog Bar Graph: 61
Input Protection: Yes
Input Impedance for DCV: Around 10MΩ
Power: 9V Battery (6F22)
LCD Size: 65mm X 43mm
Product Color: Red and grey
Product Net Weight: 370g
Product Size:180mm X 87mm X 47mm
Package includes:
1 x UNI-T UT61C Digital Multimeter Unit
2 x Test leads
1 x
K-type temperature probe
1 x Multi-purpose socket
1 x Battery(Installed)
1 x USB Cable
1 x CD with Installation Guide & Computer Software
1 x User manual
Best Online Shopping website for UNI-T Handheld Pocket Size Digital Multimeter UT61C Best Budget Avo Meter DC AC Voltage Current Resistance Meter Tester Voltmeter Ammeter Ohmmeter Tester UT-61C in cheap price in Karachi, Lahore, Islamabad, Rawalpindi, Sukkur, Peshawar, Multan, Quetta, Faisalabad and all over Pakistan.
SKU:

TMD1,Th6,KRT

/
Category: Meters
/