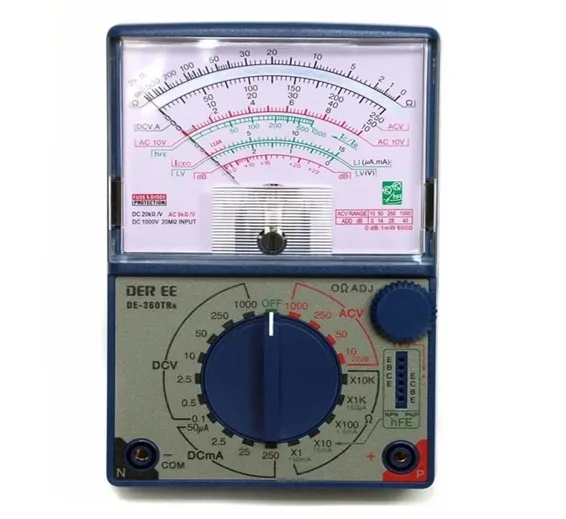 Multimeters
Analog Multimeter DE360TRN
Availability:
Out Of Stock
SKU: RAWLIXAna
Analog Multimeter DE360TRN is easy to read, colour-coded analogue displays. Analog meter DE360TRN, you can use it to measure AC/DC voltage, DC current, resistance, diode check, continuity and transistor leak current, for DC current. This meter can measure as low as 10 microamps and up to 250 mA, which is hard to do with a digital multimeter. The acts as an ammeter with low series resistance to measure direct current. For measuring high current, we connect a shunt resistor across the galvanometer so that the current through the galvanometer does not cross its maximum allowed value. Here, a significant portion of the current to be measured bypasses through the shunt. With that shunt resistance, an analogue multimeter can measure even milli-ammeter or ammeter ranges of current.
Features Of Analog Multimeter DE360TRN:
Tests AC voltage, DC voltage, DC current, resistance, continuity and batteries.
20kOhm/V DC sensitivity.
Mirrored scale.
With fuse overload protection circuitry incorporated.
Easy to read, colour-coded analogue displays.
Manual range selection.
Pocket-sized analogue tester.
Specifications Of Analog Meter DE360TRN Analog Ohmmeter:
DCV: 0 - 0.1V ±1% 0.25V/2.5/10V/50V/250/1000 ±3%
ACV: 0 -10/50/250/1000V ±4%
DCA: 0 - 50µA/2.5mA/25mA/250mA ±3%
Resistance: 0 - 2K/20K/200K/2M/20Mohm ±3% *dB: -10 dB - 22 dB
Light: Diode check (including LED)
Continuity: both Buzzer & flash
Transistor leak current Features: All range fused
Compact size
Tilt back-stand
Continuity flash
0-ohm adjustment
Package Includes:
2 x Test Leads
2 x AA Battery
1 x User Manual
Best Online Shopping website for Analog Multimeter DE360TRN Energy Analog Meter Analog Tester Voltmeter in cheap price in Karachi, Lahore, Islamabad, Rawalpindi, Sukkur, Peshawar, Multan, Quetta, Faisalabad and all over Pakistan.
SKU:

RAWLIXAna

/
Category: Meters
/