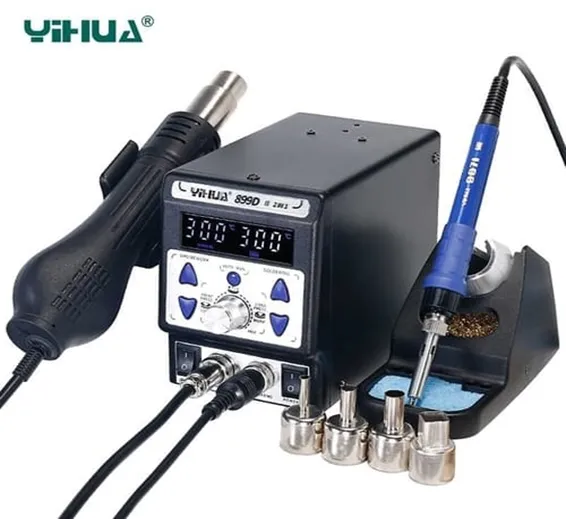 Soldering Tools
YIHUA YH899D-II 2in1 Digital Soldering Iron Hot Air Gun SMD Rework Station Desoldering Welding Tool
SKU: YIHUA899d2
This Yihua 889D II rework station for de-soldering SMD components such as SOICs, ICs, QFPs. PLCCs and BGAs, but can also be used for any production application requiring controlled hot air such as heat shrinking, lacquer removal and preheating.the highest-end precision PID program is implanted, fast temperature compensation, small error. With internal SMT double-panel process, the process is neat, and the machine stability and safety are higher. The soldering iron will automatically detect its working state.When it is in the static state and reach the sleep time, the soldering iron temperature will automatically drop to 200 °C. It can effectively prevent the iron tip from oxidizing and prolong the service life, saving energy and environmental protection.This iron working time can be set from 0-99 minutes.
Features:
PID program-controlled temperature control technology
Digital temperature correction function
Celsius / Fahrenheit switching function
Soldering iron sleep function
Iron auto sleep function
Air gun auto/manual function
Temperature Correction function
Unique ABS Fan Anti lock
In addition to small solder joints such as mobile phone repair, the soldering iron can also be applied to the welding of large solder joints such as computer repair, appliance repair, LED soldering, and large capacitor soldering. The scope of application has been expanded a lot, and almost all solder joints can be applied.
Specification:
Model: 899D-II
Power Consumption: ≤720W
Voltage: AC 110V±10% 60Hz/AC 220V~240V 50Hz
Dimension: 148x99x134mm (LxWxH)
Weight: 2.8kg
Working Environment 0~40°C/32~104°F
Storage Environment -20~80°C/-4°F~176°F
Store Humidity: 35%~45%
Hot Air Gun:
Airflow type: Brushless fan with soft wind
Air Flow ≤120L/min
Temperature Range: 100°C~480°C
Temperature Stability ±2°C
Display Type Digital Display
The length of the handle line: >=100cm
Soldering Iron:
Temperature Range: 200°C~480°C
Temperature Stability: ±1°C
Display Type Digital Display
The length of the handle line: >=100cm
Package Include:
Soldering Station
1x Soldering iron handle
1x Soldering iron stand
1x High-temperature cleaning sponge
4x Air gun nozzle
1xIC extractor
1x Power cord
1x Manual
SKU:

YIHUA899d2

/
Category: Tools
/
Great experience.
Osama Imran
- March 25, 2021