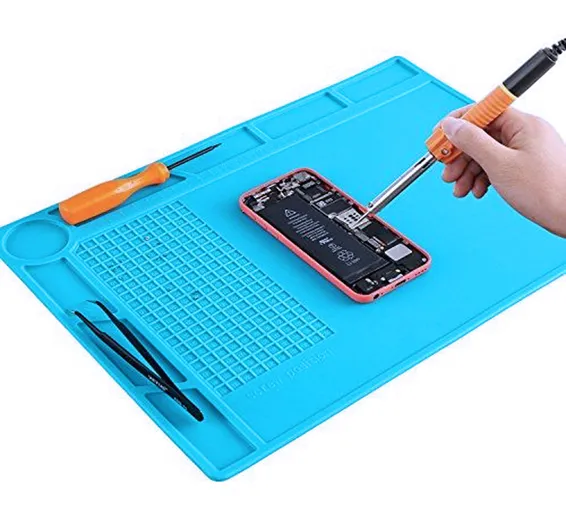 We are selling multifunctional Silicon Soldering and Repairing Mat for your ease. You can arrange your electronic parts in different portion on this mat To make your repair work easy, the mat built-in scale ruler (0 ~20cm), 124 screws position and multiple magnetic notches to classify IC chips, small parts and screws. They will improve your work efficiency and keep maintenance platform clean and tidy. The magnetic notches and 3 parts box keep small parts not lose and 11 Screwdriver slot is great to place your small screwdrivers. This Silicon Soldering and repairing Mat high-quality heat insulation maintenance desk mat can be heat resistance high temperature 932°F(500℃), which protect your maintenance platform from high-temperature burnout and damage. The soldering iron can directly solder in the mat. Silicon Soldering and Repairing Mat is the large soldering mat with size 13.4'' x 9.1''(34cm x 23cm ) provide bigger space to satisfy your many projects repairing demands. .It is an ideal silicone repair mat for soldering electronics assembly or electronics and circuit board repair, like for cell phone, laptop, computer, sports watch, camera, smart toy, eyeglasses etc. This mat material is 100% food-grade which meet the USA FDA standard, non-toxic and odourless. And Both surface and backside of the silicone work mat are non-slip, it won't slide around on your desk. It can block static electricity and make the work easier.
Features of Silicone Soldering and Repairing Mat:
High-quality silicone material, safe and non-toxic. Its texture is soft, solid and durable, it resists corrosion and out of shape
The panel can resist the temperature as high as 500℃ and is anti-corrosive also, it supports high-temperature soldering work directly
Storage box, screw position area and groove design are convenient for storage, a necessary tool for precision repair and small items storage
The repair pad easy to clean with soap and water. The omissive tin stick on the mat when soldering, just gently scratch your nail over the tin, it will fall off and mat recovers clean immediately
Anti-slip backside, durable, can fold, stretch ensure that it can maintain good daily use, such as pots, pans, trays and more
Multi-role: not only protect your working table, but also can be flexibly used in your daily life, like for your cooking pan, or for your baking house, ironing boards, hair salon etc anywhere you think it can be as heat insulation mat.
Specification of Silicone Soldering and Repairing Mat:
Type: thermal insulation cushion
Weight: approximately 260g
Size: 34x23 cm / 13.4x9.1 inches
Thickness: 3mm
Heat resistance: 500 ° C
Material: Environmentally friendly organosilicon
Package Includes:
1 x Silicone Soldering and Repairing Mat
SKU:

B416,LS5,Th2,KRT

/
Category: Tools
/