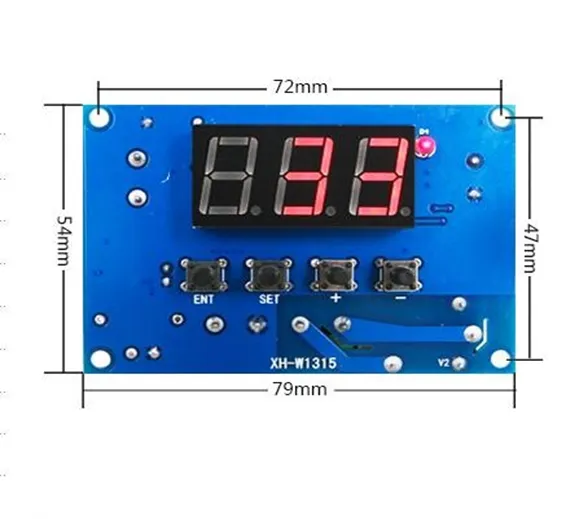 Other Modules
XH-W1315 Digital Temperature Controller 30~999 Degree
SKU: B246,D55,IMP0,Th0,KRT
XH-W1315 Digital Temperature Controller uses industrial microcomputer control system to stable the performance. Temperature controller has the advantages of convenient installation, high temperature resistance, long service life, etc.
XH-W1315 Digital Temperature Controller:
Working voltage :AC 220V /DC12V/ DC24V
Temperature control range:-99℃~999℃
Sensor:K type thermocouple
resolution :1℃
Temperature measurement accuracy:±2℃
P0 working mode
This value must be set when the thermostat is used for the first time. If it is used for heating heating, it is set to H, and if used for cooling cooling, it is set to C
P1 backdifferential setting
Long press SET key for 3 seconds to enter inside have a menu, select P1, then press the SET key, enter the return difference value is SET back out of condition is corrected much starts again after stop to SET temperature, the default value is 2 if the fix to modify please hold down the SET into P1 mode changes
P3 temperature correction
When the temperature and standard temperature are deviated, this function can be used to correct the corrected temperature + the correction value
P4 high temperature alarm
When the measured value is greater than this value, the screen temperature flickers and drops the sound alarm. At the same time, the temperature is forced to disconnect, and the high temperature alarm closed signal is output. The users are reminded to take measures to pay attention to the output closed signal for relay, and the alarm power supply can be connected to the output in series.
How to set up the factory settings?
At the same time, hold down the upper and lower keys at the same time, the digital tube displays 888, and then automatically jumps to the detection temperature, that is to restore the factory setting.
Application of heating mode
A boiler needs to keep the water temperature at 80-90 degrees, that is, when the water temperature is more than 90 degrees, and when the temperature falls to 80 degrees, then the heating is restarted
The detailed setting steps are as follows:
Setting the stop temperature of 90 degrees centigrade
Set the mode of work for H heating mode
The set back difference is 10 that is to turn back 10 degrees after 90 degrees cessation and reopen
◆An example of the use of refrigeration mode
A cold storage must keep the temperature at -5~0 degrees, that is, when the temperature is 5 degrees below zero. When the temperature rises to 0 degrees, the refrigeration is started again.
The detailed setting steps are as follows:
Set the stop temperature of -5 degrees centigrade
Setting the working mode for C refrigeration mode
The set back difference is 5, that is, when the -5 degree stops to 0 degrees and reopen
Package includes:
1x thermostat