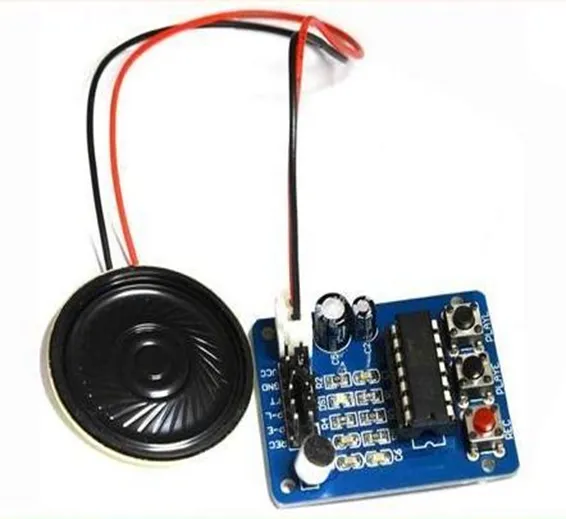 Other Modules
ISD1820 Recording And Playback Module With On Board Mic and Loud Speaker
SKU: B 168,IMP5,Th2,KRT507,D70,N120
The ISD1820 Recording Module Voice Board is the real easy way to add Voice Recording (and Playback) to your project. The Module can be operated directly by using the 3 Push-Buttons or with every microcontroller (ex. Arduino). A microphone is implemented directly on the board, and you can connect any 8 Ohm Speaker. Your recordings are saved even without power due to the non-volatile storage on the ISD1820.
This module uses the ISD1820 voice record and playback IC to record a single voice message of up to 10 seconds in length. The recorded message is stored in its specialised analogue flash memory that will keep the message stored even when power is removed. The module includes an electret microphone to record your message and push buttons allow for record, partial playback, or full playback of the message. Header pins allow for easy interface to a microcontroller and playback can be controlled with just one digital pin.
Robu.in has included with this module an 8 Ohm 0.5W speaker and cable which can be connected directly to the modules speaker output.
Package Includes :
1 x ISD1820 Recording Module Voice Board With On Board Mic
1 x Loud Speaker.
Specification and Features::
The main chip: ISD1820.
Dimensions : 43 x 34 x 11 (LxWxH) mm.
The working voltage: DC 3V-5V.
Loudspeaker: 8 Ohm, 0.5W.
An easy to use 10 seconds of voice recording.
High-quality, natural voice restored.
Can be used as propaganda module.
With looping, jog playback, single-pass play function.
Available single-chip control.
This module can directly drive a small speaker 8 ohm 0.5W.
Power supply : 3-5V, which can be accessed pin power.
Audio recording control mode: the key to control or microcontroller, IO has drawn the line of control.
Buttons control audio recording method of operation :
REC button: record button, you can press and hold the recording, release the button to stop recording;
RLAYE key: trigger mode playback, press will play this whole speech;
PLAYL key: jog mode playback, press and hold until playback, release to stop playback;
RPL Jumper: loop mode control, loop playback;
FT Jumper: direct control, microphone voice through the speaker can playback;
Attachments and Links :
Datasheet
Schematic Of ISD1820