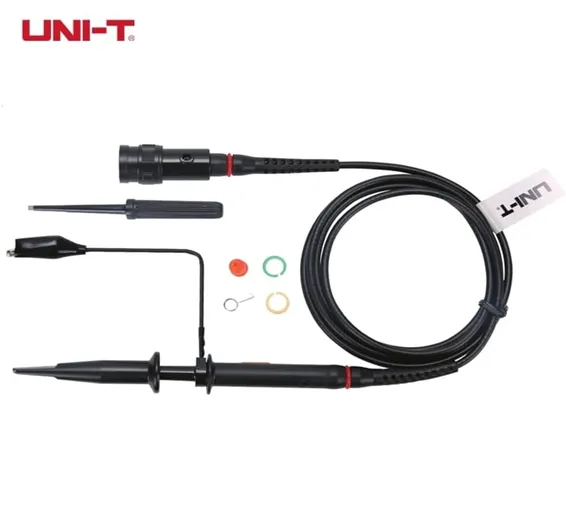 UNI-T 200MHz oscilloscope probe UT-P05 is a device that makes a physical and electrical connection between a test point or signal source and an oscilloscope. This UTP05 passive probe lead is the most commonly used probes for taking general-purpose measurements. This best low price probe is constructed using wires, connectors, a housing, and, if required, compensation or attenuation resistors or capacitors.
Features Of UNI-T Best Passive Probe Test Lead 200MHz UTP05:
This passive probe is good oscilloscope accessories, it is suitable for oscilloscope.
Stable performance and not easy to break.
This can provide a professional and accurate measurement.
Widely used, it can satisfy most peoples.
A good helper for instrument engineer.
Specifications Of High-Quality Oscilloscope Probe UNI-T UT-P05:
Passive Probe: (1:1/10:1)
Bandwidth: 200MHz
Input Resistance: 1×:1MΩ±2%,10×:10MΩ±2%
Input Capacitance: 1×:70pF~120pF,10×:14pF~18pF
Compensation Range: 8pF~ 35pF
Operating Voltage: 1×:300Vp-p,10×:600Vp-p
Package Includes:
1 x Oscilloscope Probe 200MHz UNI-T UTP05
Best Online Shopping website for UNI T 200MHz Oscilloscope Passive Probe UT P05 Best Portable Oscilloscope Multimeter Test Lead in cheap price in Karachi, Lahore, Islamabad, Rawalpindi, Sukkur, Peshawar, Multan, Quetta, Faisalabad and all over Pakistan.