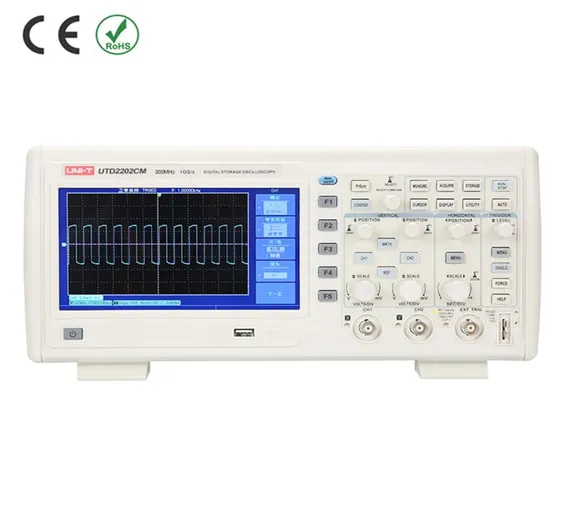 Oscilloscope
Digital Storage Oscilloscope 2 Channel DSO UNI T UTD2202CM
Display: 7 Inches TFT LCD, WVGA (800x480)
Product Color: White and Grey
Product Net Weight: 2.9Kg
Product Size (W x H x D): 332mm x 147mm x 170mm
SKU: RAWLIXDig
An oscilloscope is a laboratory instrument commonly used to display and analyze the waveform of electronic signals. In effect, the device draws a graph of the instantaneous signal voltage as a function of time. UNI-T UTD2202CM digital oscilloscope is a 2 channel 200MHz bandwidth high-performance device. It has a sampling rate of 1GS/s. Modern DSO has a Button lock: can lock or unlock any button on the device, and code can be set to avoid random alternation. It has 34 kinds of auto measurementsDigital Storage CRO is ergonomic, lightweight, universal instruments designed for engineers. Sampling Oscilloscope is suitable for field testing and analyzing time-based voltage signals in a mobile environment. 200MHz Scopemeter has many applications in Electric vehicle and electronics equipment designand many more.
Features Of UNI-T UTD2202CM Modern Digital Scopemeter:
2 channels,1GS/s sample rate
200MHz bandwidth, 16Mpts maximum memory depth
Waveform acquisition rate is up to 150,000wfms/s
Vertical sensitivity: 2mV/div~5V/div
Time-based range: 2ns/div~50s/div
Trigger modes: edge, pulse, runt, video, slope, alternate
Customized AUTO, fast captures the signals
Supports Y-T and X-Y mode at the same time, can observe Lissajous waveform
34 kinds of auto measurements
Optional LA module
Standard interfaces: USB Host,USBDevice,Pass/Fail
7-inch TFT LCD,WVGA (800*480)
Specifications Of Professional Digital Storage 200MHz Oscilloscope DSO: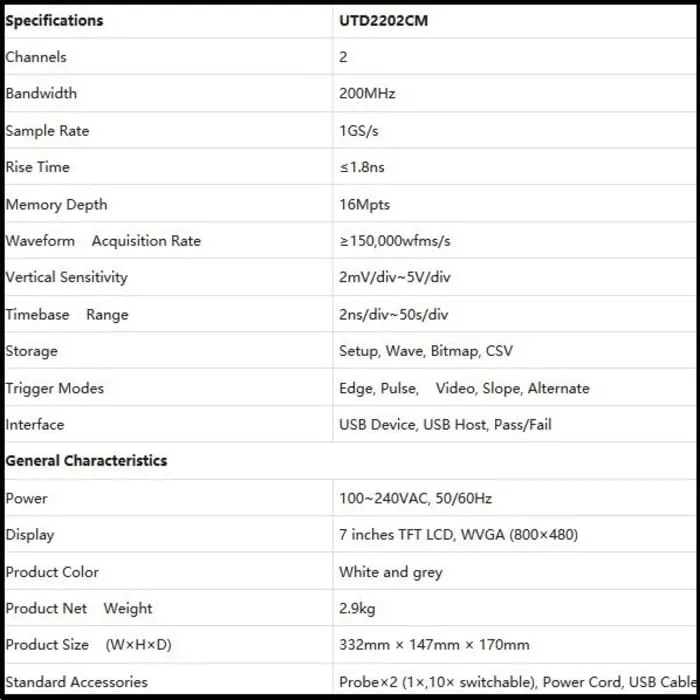 Typical applications Of UTD2202CM :
Serial data analysis
Jitter analysis
Data storage device testing
Electric vehicle and electronics equipment design
Evaluating the frequency response of sound equipment
Troubleshooting automotive engines
Electronics technician repair and maintenance.
Package Include:
1x Oscilloscope
2x Probe (1×,10× switchable)
1x power cord
1x USB cable
Best Online Shopping Website for Digital storage Oscilloscope UNI T UTD2202CM 2 channel DSO data analysis Oscilloscope in cheap price in Karachi Lahore Islamabad Rawalpindi Sukkur Peshawar Multan Quetta Faisalabad and all over Pakistan