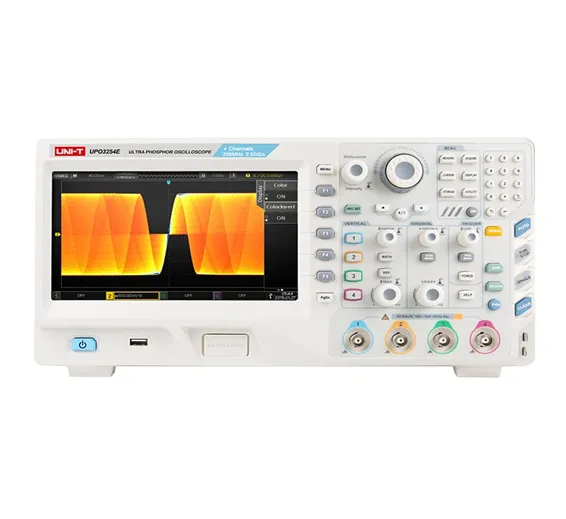 Oscilloscope
Ultra Phosphor Oscilloscope 4 Channel DSO UNI T UPO3254E
SKU: RAWLIXUlt
UNI-T UPO3254E ultra-phosphor oscilloscopes can realize functions of deep storage, high waveform capture rate, real-time waveform recording, and playback, multi-level intensity grading display, and more with UNI-T special 3D technology. Some competitive features of Digital Storage Oscilloscope are 250MHz bandwidth, up to 2.5GS/s real-time sampling rate, 2/4 channels, 70Mpts standard memory depth, higher than 200,000wfms/s waveform capture rate, more than 100,000 waveforms continuous recording and analysis, up to 256 levels intensity grading display. Sampling DSO can be operated with a standard 25MHz dual-channel function/arbitrary waveform generator or an optional digital multimeter module (UT-M12). The Digital Storage CRO has multiple triggers and Bus decoding functions, including edge, pulse width, slope, video, runt, windows, Nth edge, delay, overtime, code, USB, RS232/UART, I2C, SPI, CAN, LIN, and FlexRay triggers, duration, setup/hold and more. UNI-T Scopemeter features low noise and 1mV/div Min vertical stall.
Features Of UNI-T UPO-3254E Oscilloscope DSO Scopemeter:
Bandwidth: 250MHz
Sampling rate: 2.5GS/s;
Memory depth: 70Mpts
Waveform capture rate: 200,000wfms/s
Independent triggering
256-level intensity grading display
Multiple triggering and decoding available
8 inches TFT LCD, WVGA (800×480)
Up to 100,000 frames waveform record
Interfaces: USB Host, USB Device, LAN, EXT Trig, AUX Out (Trig Out, Pass/Fail), VGA
Specifications Of 4 Channel Digital Storage Oscilloscope:
Power: 100V~240V ACrms, 50Hz/60Hz
Display: 8-inch TFT LCD, WVGA (800 x 480)
Color: White and Grey
Dimension: 490mm x 480mm x 300mm
Typical applications Of UPO3254E :
Serial data analysis
Jitter analysis
Data storage device testing
Electric vehicle and electronics equipment design
Evaluating the frequency response of sound equipment
Troubleshooting automotive engines
Electronics technician repair and maintenance.
Package Include:
1x Oscilloscope
2x Probe (1×,10× switchable)
1x power cord
1x USB cable
Best Online Shopping Website for Digital storage Oscilloscope UNI T UPO3254E 4 channel DSO data analysis Oscilloscope in cheap price in Karachi Lahore Islamabad Rawalpindi Sukkur Peshawar Multan Quetta Faisalabad and all over Pakistan