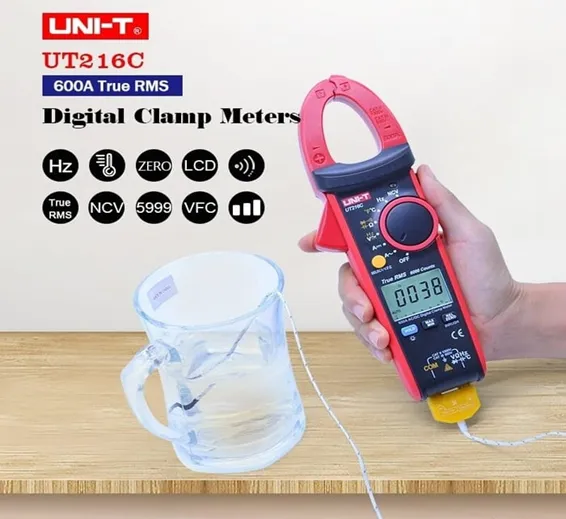 UT216 series digital clamp meters are designed for measuring high frequency currents (up to 400Hz) in server rooms, IT systems, etc. Its double injection design gives users a more comfortable grip and enhanced durability. UT216's 6000 count display also provides more precise readings for users.
Models in UT216 series: UT216A, UT216B, UT216C, UT216D
SKU: TMD1,Th6,KRT
UT216 series True RMS digital clamp meter is a new-generation practical electrotechnical measurement meter which has the features of high reliability, high safety, automatic range, and handheld type Auto range Clamp Multitester AC/DC Current has full-range overload protection and unique appearance design is more excellent in performance. UNI-T UT216C Tong Tester is an ideal tool for the detection, maintenance, and repair of various universities and colleges, smelting, communication, manufacturing, petroleum, national defense, electrical, power, and circuit equipment. Manufactured by UNI-T.
Features Of Handheld Modern Auto Range Clamp Ampere Meter UT216C:
True RMS
Auto range, 3/s sampling rate
MAX/MIN/Relative modes
K-type temperature probe
Flashlight
Data hold, LCD backlight, auto power-off
400Hz measurement
NCV, non-contact AC voltage testing
VFC, low pass filter
Zeroing function
Inrush current
Analog bar graph
Specifications Of UNI-T UT216C AC/DC Current Digital Clamp Multitester:
Power: AAA 1.5V x 3
LCD Display: 38mm x 24 mm
Dimension: 220mm x 75mm x 40mm
Color: Red and Grey
Jaw Capacity: 30mm
DC voltage:

Range:600mV/6V/60V/600V/1000V
Accuracy: ±(0.8%+1)

AC voltage:

Range: 6V/60V/600V/750V
Accuracy: ±(1.2%+5)

AC current:

Range: 6A/60A/600A
Accuracy: ±(2.5%+5)

DC current:

Range: 6A/60A/600A
Accuracy: ±(2.5%+5)

Resistance:

Range: 600Ω/6KΩ/60KΩ/600KΩ/6MΩ/60MΩ
Accuracy: ±(1%+2)

Capacitance:

Range: 60nF/600nF/6μF/60μF/600μF/6mF/60mF
Accuracy: ±(4.0%+5)

Temperature (°C):

Range: -40 °C ~ 1000°C
Accuracy: ±(2.5%+3)

Temperature (°F):

Range: -40 °F ~ 1832°F
Accuracy:±(2.5%+4)

Frequency:

Range: 10Hz-1MHz
Accuracy: ±(0.1%+4)
Package includes:
1x Clamp Meters UNI T UT216C
Pakistan Best Online Shopping website for Modern Digital portable Clamp meter 600A UT216C AC/DC Voltmeter Ammeter and Resistance MultiTester in cheap price in Karachi Lahore Islamabad Rawalpindi Sukkur Peshawar Multan Quetta Faisalabad and all over Pakistan
SKU:

TMD1,Th6,KRT

/
Category: Meters
/