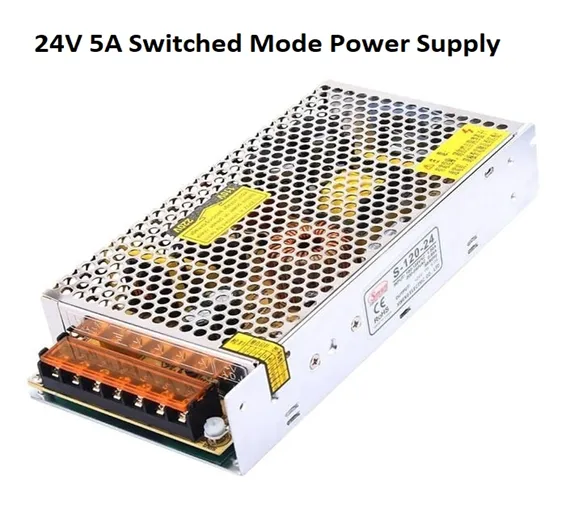 A 24v switched-mode power supply (SMPS) is an electronic circuit that converts power using switching devices that are turned on and off at high frequencies, and storage components such as inductors or capacitors to supply power when the switching device is in its non-conduction state. 24V 5A 120W Industrial SMPS Power Supply is a single-output enclosed type power supply with metallic mesh case. Adopting the input of 115VAC or 230VAC. Switching Transformer 5A design according to the characteristics of the LED. 24V AC to Dc Adapter is a general-purpose power supply and IN-DOOR USE ONLY.
Features Of 24V 5A Switching Transformer Dc Power Supply For Landscape Lights:
High efficiency, long life, and high reliability
Low dc ripple, high efficiency
low operation temperature & long performance life
Excellent insulation property, high dielectric strength
100% full-load burning test
Dimension: 200*95*45
Specifications Of 24V 120W Switched Mode Transformer SMPS For LED lighting:
Input:
AC input voltage range(V):AC 110V/220V±15% (switch replacement)
Input current(A):6.5A /115V,4A /230V
Frequency (Hz):50/60Hz
Efficiency:87% Typ(230VAC Full Load)
Inrush current(A):25A/115V 50A/230V cold start
Leakage current(mA):<3.5mA/240VAC
Output:
Output Voltage(V):+24VDC
Voltage Regulation:±10%
Output Current(A):5A
Current Range (A):0-5A
Rated Power(W) :120W
Start time, hold-up time(ms): Ton≤200ms, Td≥30ms @230Vac Full Load
Rise time(ms):Typ:100ms @230Vac Full Load
Ripple/Noise(MVP-p):150 MVP-p
Note:
The power supply is 100% full, but some power is lost when wiring. Therefore, it is recommended to use 80-85% of the power.
The input voltage should be within the specified working range.
It is strictly forbidden to use in a high-temperature environment, the power supply should have good heat dissipation space and environment.
Do not install the power supply on flammable materials, keep away from gas stations or places where smoking is prohibited.
Package Include:
1x Switching Power Supply SMPS 24V 120W 5A
Buy Switching Mode Power Supply SMPS 24V 5A 120W Adapter Switching Transformer for LED lighting at Pakistan's Best Online Store at cheap price. Here you get a wide range of switched AC to DC Adapters SMPS. We Deliver in Gujranwala, Karachi, Lahore, Islamabad, Rawalpindi, Multan, Quetta, Faisalabad and all Over Pakistan