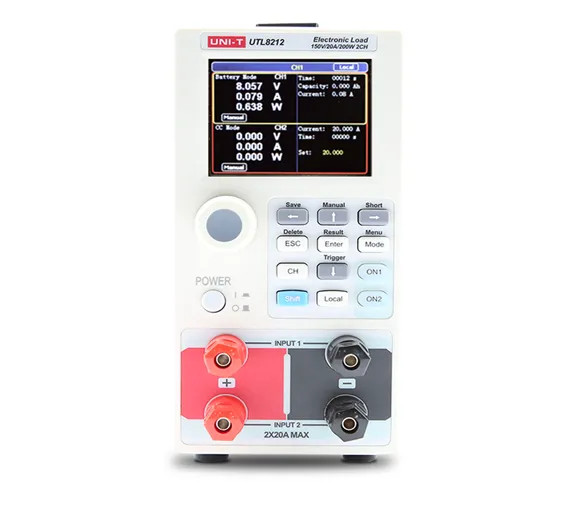 Power Supply
UNI-T UTL8212 High-Precision Compact DC Electronic Load Tester Power Supply Current Test
The UTL8200 Series is designed for users requiring a DC load with a compact form factor which is widely used in basic applications such as product production line and maintenance. Small size, easy operation, rich testing functions, and modes, support for dual-channel independent testing, the standard RS-232 interfaces for remote communication to meet your diversified test requirements, and easy to connect seamlessly with automatic production line and automatic test system (ATS). With a wide range of power measurement, voltage and current measurement speed up to 40kHz, test resolution up to 1mV/1mA. The UTL8200 series is a cost-effective DC load with performance specifications that rival any instrument in its class.
SKU: TCBOX5
Features of UNI-T UTL8212 / UTL8211 DC Electronic Load Tester:
2.8 inch large screen LCD display
Test resolution: 1mV/1mA
Voltage test range: 0~150V
Current test range: 0~40A (UTL8211), 0~20A (UTL8212)
Power test range: 0~400W (UTL8211), 0~200W (UTL8212)
Built-in 7 test modes
7 working modes: CC/CV/CR/CP/dynamic/list/battery
Independent short circuit test function
Multi-mode battery discharge test
Multiple protection functions. Various protections such as over-voltage, low voltage, over current, over power, overheat, anti-reverse connection, etc.
RS-232C communication interface, intelligent temperature control fan, power-off memory function:
Standard RS-232C interface: supporting PC software to realize remote operation.
Intelligent temperature control fan: Effectively reduce noise and help prevent the instrument from overheating.
Power-off memory: power on again to restore the last saved setting value.
| | | |
| --- | --- | --- |
| MODEL | UTL8211 | UTL8212 |
| VOLTAGE | 150V | 150V |
| CURRENT | 40A | 20A |
| TOTAL POWER | 400W | 200W*2CH |
| RESOLUTION | 1mV/1mA | 1mV/1mA |
| MAX. DYNAMIC FREQUENCY | 10kHz | 10kHz |
| CURRENT SLEW RATE | 0.15A/μs | 0.15A/μs |
| SIZE | 300mm x 88mm x 174mm | 300mm x 88mm x 174mm |
| CONNECTIVITY | RS-232 | RS-232 |
| NO OF CHANNELS | Single Channel | Dual Channel |
| DATA STORAGE | Memory Storage 60 Groups | Memory Storage 60 Groups |