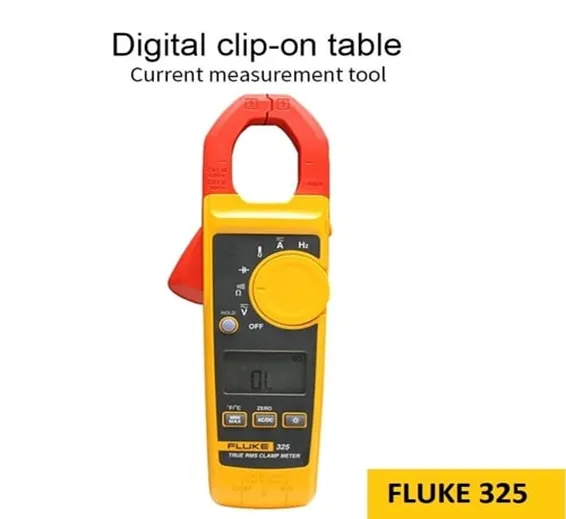 Clamp Meters
FLUKE 325 True RMS 400A Digital Clamp Meter AC DC Voltage And Current Tester
SKU: Flu325BR1
The FULKE 325 True RMS Clamp Meter provides large AC/DC characteristics in a small form factor. The FLUKE 325 clamp table is the top of the 320 Series clamp table. Designed to perform in harsh environments and provide noise-free, reliable results, you can trust 325 to help you confidently diagnose electrical problems. It features true RMS measurements, optimized ergonomics, a large backlit display, and a rugged compact design to measure currents up to 400A in tight cable compartments. You can also use it to measure temperature, capacitance, AC/DC current, and frequency. Commercial and residential electricians use 325 to verify load current, AC voltage, and continuity of circuits, switches, fuses, and contacts. Frequency measurements allow inspection of portable generators; DC current test battery backup and solar storage devices.
Feature:
Robust and reliable true RMS clamp with DC current and frequency measurement.
AC and DC currents are measured to 400A.
Measure the AC voltage and DC voltage to 600 volts.
Provides accurate RMS AC voltage and current for accurate measurement of nonlinear signals.
The resistance of 40 KQ was measured by continuous detection.
The frequency is measured at 500 Hz.
Specification:
AC current:

Accuracy 2% ± 5 digits
(45 to 65Hz), 2.5% ± 5 digits (65Hz to 400Hz
40.0A / 400.0A

DC current:

Accuracy 2% ± 5 digits
40.0A / 400.0A

AC voltage:

600.0V
accuracy 1.5% ± 5 digits

DC voltage:

accuracy 1.0% ± 5 digits
600.0V

Resistance:

Accuracy 1.0% ± 5 digits
400.0Ω / 4000Ω / 40.0kΩ

Continuity: ≤30Ω
Capacitance: 0 to 100.0uf / 100uf to 1000uf
Frequency: 5.0Hz to 500.0Hz
AC response:True-RMS
Backlight:Yes
Data retention:yes
Contact temperature:-10C to 400C
Min / max:yes
Max Wire Diameter:30mm (600MCM)
Size:207x75x34mm
Classification rating:CAT III 600V, CAT IV 300V
Power: 2xAAA battery (not included)
Package Include:
fluke 325 clamp
Test leads
Soft case
User's manual
Best online shopping website for fluke 325 True RMS 400A Digital Clamp Meter AC DC Current And Voltage Tester at cheap price in Lahore, Islamabad, Karachi, Faislabad, Multan, Quetta, Sukkur, Peshawar, Rawalpindi, and all over Pakistan
SKU:

Flu325BR1

/
Category: Meters
/