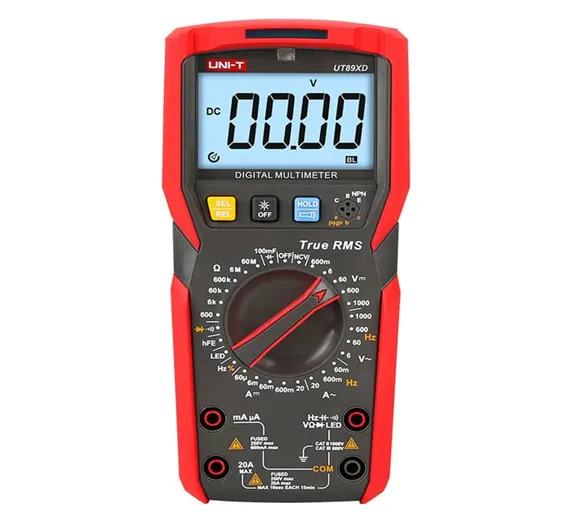 The UNI-T UT89X and UT89XD professional NCV digital multimeters can solve a long-term problem with customers-how to quickly and accurately differentiate the zero line of fire, depending on the level of the detection voltage. The UT-89XD NCV multimeter will display 3 coloured light tips different, which can be used to accurately differentiate the zero line of fire, and has great versatility. This 20A high current multimeter has a temperature measurement function that can be used for the inspection of the HVAC system. The UT 89 XD true RMS tester is equipped with an LED light-emitting diode detection function to detect the use of the LED and diagnose its quality. At the same time, the UT89X series also has the traditional multimeter to measure AC and DC, current and voltage, resistance, diode, triode, capacitor, frequency
Features Of UT89XD Digital Multimeter:
NCV professional detection function;
Real RMS voltage and current detection; (voltage up to 1000 V, current up to 20 a)
100mF large capacitor Fast charge measurement;
Triode hFE measurement function, which can detect the current amplification factor of the triode;
Temperature measurement (UT89X), LED test (UT89XD);
With flashlight and automatic screen backlight, it is convenient for users to work in a dark environment
Specifications Of True RMS Automatic Backlight Multimeter: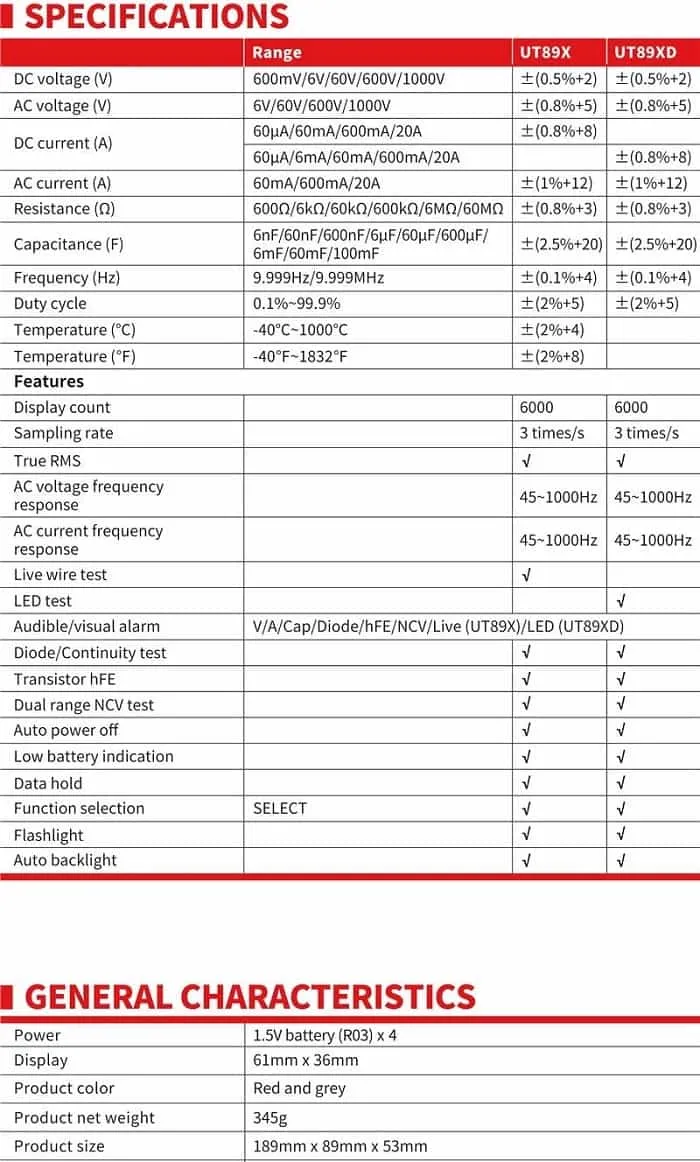 Package Include:
1 x UT89X / UT89XD
1 x Test line
1 x Type K thermocouple probe (UT89X)
1 x English manual
Best Online Shopping website for Multi-Purpose UNI-T UT89XD True RMS Digital Multimeter Pocket Size Avo Meter DC AC Voltage Current Meter Tester in cheap price in Karachi, Lahore, Islamabad, Rawalpindi, Peshawar, Multan, Quetta, Faisalabad and all over Pakistan.
SKU:

TMD1,Th6,KRT

/
Category: Meters
/