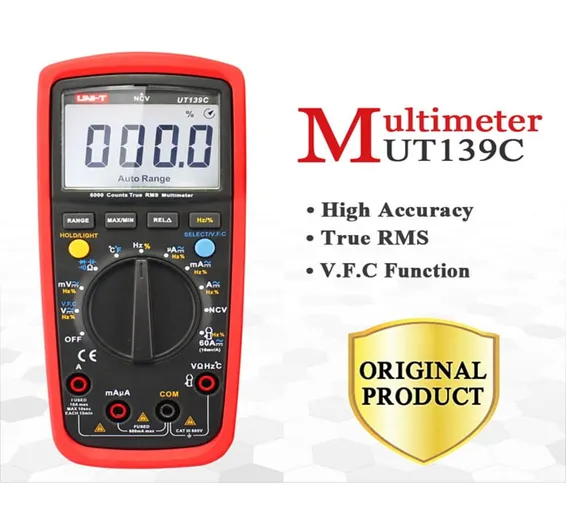 UT139 Series digital multimeters are newly designed to offer users better performance and higher safety rating. UNI-T UT-139C RMS multimeter, totally over-load protection and unique structural design make it a new type of multimeter with high performance/ price ratio and the best choice for electricians used in electrical maintenance and repairing. This UT 139 C tester is an ideal tool for equipment testing, maintenance and repair widely needed in electronics, electric power, schools, metallurgy, communications, manufacturing, petroleum, national defence, chemical industry, etc.
Features Of UNI-T UT139C Multi-functional True RMS Multimeter:
True RMS for the whole series
Measure signals with varied frequency (VFC)
Measure large capacitance up to 100mF
Optional AC/DC 60A current clamps in different models to measure current up to 60A(1mv=1A)
NCV designed for the whole series, a necessity for electricians
AA1.5Vx 2(5#) battery, easy for users to purchase and replace
Soft rubber holster is easy to stand 2m drop
Optional magnetic hanging strap offered to facilitate tests in a special location
Fast to replace the fuse, just by opening the battery cover
Reliable with use of internal 2PCS fuses with high breaking capacity
Protection against 600V input/1 minute from misconnection
Safety Rating: CAT III 600V
Specifications Of UNI T UT139C 6000 Analog NCV LCD Tester DMM:
Specifications
Range
UT139A
UT139B
UT139C
UT139S
DC voltage (V)
600V
±(0.5%+2)
±(0.5%+2)
±(0.5%+2)
±(0.5%+2)
AC voltage (V)
600V
±(1%+3)
±(0.8%+3)
±(0.8%+3)
±(0.8%+3)
DC current (A)
10A
± (0.7%+2)
±(0.7%+2)
±(0.7%+2)
±(0.7%+2)
AC current (A)
10A
±(1%+3)
±(1%+3)
±(1%+3)
±(1%+3)
Resistance (Ω)
20MΩ
±(1%+2)
40MΩ
±(0.8%+2)
60MΩ
±(0.8%+2)
±(0.8%+2)
Capacitance (F)
99.99mF
±(4%+5)
±(4%+5)
±(4%+5)
Frequency (Hz)
10Hz~10MHz
±(0.1%+4)
±(0.1%+4)
±(0.1%+4)
Temperature (°C)
-40°C~1000°C
±(1%+3)
±(1%+4)
Temperature (°F)
-40°F~1832°F
±(1.5%+5)
±(1.5%+5)
Features
Display count
2000
4000
6000
6000
Auto range/Manual range
/True RMS
√
√
√
√
Bandwidth (Hz)
45Hz~400Hz
45Hz~1kHz
45Hz~1kHz
45Hz~400Hz
NCV/Continuity buzzer
√
√
√
√
Duty cycle
0.1%~99.9%
√
√
√
Diode
Around 2V
Around 3V
Around 3V
Around 3V
LPF/LoZ (ACV)
√
Analog bar
√
General Characteristics
Power
1.5V battery (R6) x 2
Display
58mm x 36mm
Product color
Red and grey
Product net weight
UT139A/B/C: 354g; UT139S: 345g
Product size
170mm x 80mm x 48mm
Standard accessories
UT139A/B: Batteries, test leads;
UT139C/S: Batteries, test leads, temperature probe
Standard individual packing
Gift box, English manual
Standard quantity per carton
20pcs
Standard carton measurement
450mm x 330mm x 340mm
Standard carton gross weight
12.2kg
Optional accessory
UT139C: Current sensor AC/DC 40A
Package includes:
1 x UNI-T UT139C True RMS Digital Multimeter
2 x Test Leads
1 x Temperature Probe
1 x English User Manual
Best Online Shopping website forUNI T True RMS Digital Multimeter UT139C Pocket Size Avo Meter DC AC Voltage Current Meter Tester in cheap price in Karachi, Lahore, Islamabad, Rawalpindi, Peshawar, Multan, Quetta, Faisalabad and all over Pakistan.
SKU:

TMD1,Th6,KRT

/
Category: Meters
/