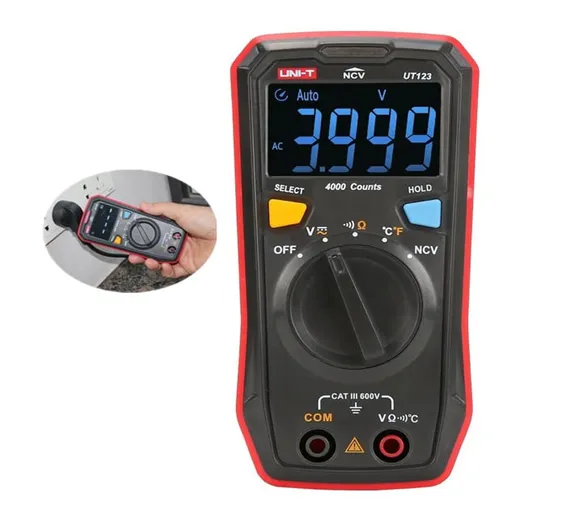 UNI-T UT123 is a pocket-size residential multimeter specially designed for home use. UT-123 compact structure device makes it easy to hold in one hand, and the EBTN screen allows users to obtain clear readings at maximum angle. The Ut 123 ac dc multimeter is designed according to EN61010-1:2010, EN61010-2-030:2010, and EN61326-1:2013 safety standards. This smart multimeter is able to safely operate within the CAT III 600V environment.
Features Of UT123 Pocket-sized Residential Multimeter:
The battery status detection is automatically completed at the moment of booting: The green light indicates the normal state; the yellow light indicates low battery; the red light indicates very low battery, and there is an acousto-optic indication at this time.
Automatic identification of ACV/DCV measurement
Intelligent non-contact electric field detection, which distinguishes the weak electric field by green light, the strong electric field by yellow light, and the super-strong electric field by red light
Full-featured protection
AC/DC Current and Voltage Resistance/Continuity/NVC/Temperature(C/F) Measure
Specifications Of Smart Digital Multimeter UT123:
Specifications
Range
UT123
DC Voltage
4V/40V/400V/600V
±(0.5%+2)
AC Voltage
4V/40V/400V/600V
±(1.0%+3)
Resistance
400Ω/4kΩ/40kΩ/400kΩ/4MΩ/20MΩ
±(0.8%+2)
Temperatue
–40℃~ 300℃/–40℉~ 572℉
±4℃
Features
Display Count
4000
Autol Range
√
NCV
√
Continuity Test
√
Acousto-optic indication(NCV/continuity/battery power)
√
Low Battery Indication
≤2.7V
√
Data Hold
√
Auto Power Off
15Min
√
Operation Temperature
0℃~40℃
Safety
CAT III 600V
General Characteristics
Power
1.5V battery (R03) x 2
Display
44mm × 26mm
Product color
Red and grey
Product net weight
130g
Product size
130mm x 65m x 28mm
Standard accessories
Batteries, Thermocouple
Standard individual packing
Gift Box, Manual
Standard quantity per carton
60pcs
Standard carton measurement
480mm x 340mm x 325mm
Standard carton gross weight
15.5kg
Package Include:
1 x UT123 Multimeter
2 x Test leads
1 x Thermocouple
Best Online Shopping website for UNI-T Pocket Size Digital Multimeter Residential UT123 Avo Meter DC AC Voltage Current Resistance Meter Tester Voltmeter Ammeter Ohmmeter Tester UT-120A in cheap price in Karachi, Lahore, Islamabad, Rawalpindi, Sukkur, Peshawar, Multan, Quetta, Faisalabad and all over Pakistan.
SKU:

RAWLIXUNI

/
Category: Meters
/
Jamshaid Mirza
- March 26, 2021