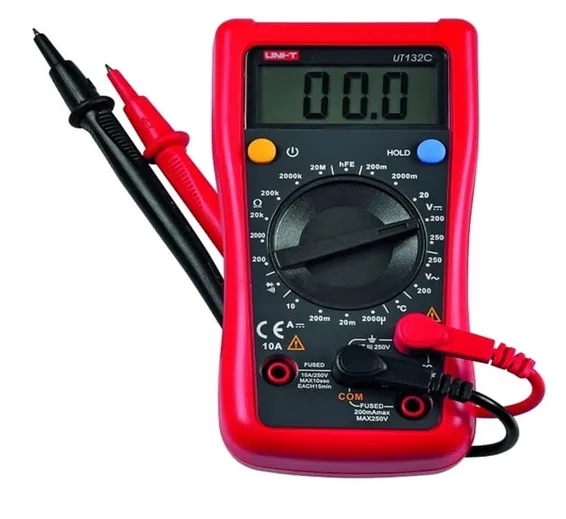 Multimeters
UNI T UT132C Palm Size Digital Multimeter
Availability:
Out Of Stock
SKU: TMD1,Th6,KRT
UNI-T UT132 series meter is a 3.5 digit palm-sized digital multimeter with stable performance, and fashionable design. UT132C dc multimeter is safe and reliable manual ranged that can be used for measuring
AC/DC voltage
,
resistance
, capacitance,
temperature
, diode voltage drop, transistor hFE parameter, circuit continuity, square wave output and so on. Its adapter plug socket of UT-132C meter can conveniently test surface mount devices. This Uni-t cheap multimeter can be used for home, schools, factories, electrical and chemical engineering, and other areas. It is a great tool for circuit maintenance and electrical equipment repair.

Features Of UNI-T UT-132C DMM Meter:

Measurement functions:

AC/DC voltage
DC current
resistance
temperature
continuity test
diode test

Data hold
Low battery indication

Specifications Of UNI-T Mini Multimeter UT 132 C:

Type of display used: LCD (1999)
DC voltage measuring range: 200mV/2000mV/20V/200V/600V
DC voltage measuring accuracy: ±(0,5% + 2 digits)
AC voltage measuring range: 200/600V
AC voltage measuring accuracy: ±(1,2% + 3 digits)
DC current
measuring range: 2000μA/20mA/200mA/10A
DC current
measuring accuracy: ±(1,0% + 2 digits)
Resistance measuring range: 0,1...200/2k/20k/200k/2M/20MΩ
Resistance measuring accuracy: ±(1,2% + 2 digits)
Temperature measuring range: -40 - 1000 °C
Temperature measurement accuracy: ±(1% + 3 digits)
Weight with battery: 206gr
Power supply: Battery 9V 6F22
LCD Size: 49mm x 18mm
Product Color: Red and Grey
Product Net Weight: 200 g
Product Size: 72mm×137mm×35mm

Package includes:

1 x Multimeter UNI-T UT132C
1 x Test lead
1 x Temperature probe
1 x Battery
1 x User manual

Best Online Shopping website for UNI-T Handheld Pocket Size Digital Multimeter UT132C Best Budget Avo Meter DC AC Voltage Current Resistance Meter Tester Voltmeter Ammeter Ohmmeter Tester UT-132C in cheap price in Karachi, Lahore, Islamabad, Rawalpindi, Sukkur, Peshawar, Multan, Quetta, Faisalabad and all over Pakistan.
SKU:

TMD1,Th6,KRT

/
Category: Meters
/