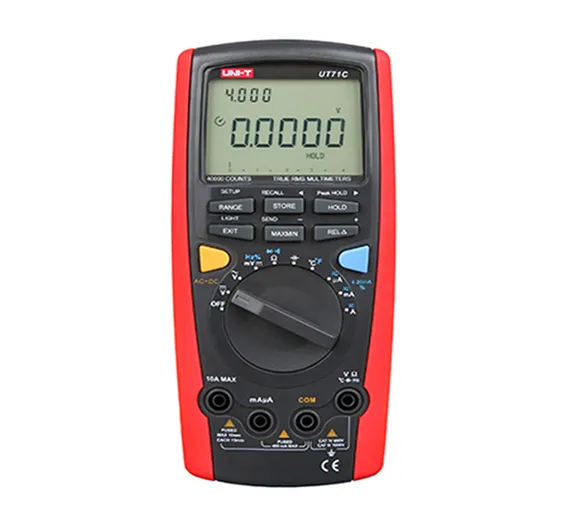 UNI-T UT71C digital multimeter measures AC/DC current and voltage, resistance, capacitance, frequency, temperature (ºC and ºF), duty cycle, and tests diodes and continuity. UT-71C professional multimeter, the built-in memory can hold up to 100 measurements for later recall. This multimeter for electronics measurements can be stored automatically in 0 ~ 255-second intervals. UT 71 C meter, you can transfer the data by using the USB interface the recorded data to the PC for later analysis. The UT71C best multimeter has LCD with 3 indications: primary 40.000 counts, left secondary 4000 counts, right secondary 4000 counts
Features Of UT71C Middle Size Intelligent Digital Multimeter:
Adjustable data-recording interval
True RMS, duty cycle, continuity buzzer
MAX/MIN/REL modes; peak/data hold; analogue bar graph
4-20mA loop test
45Hz~100kHz frequency response
LCD backlight; miss plug alarm
Auto power off, low battery indication
Data logging
Auto and manual range selectable
USB interface, Bluetooth
Temperature measurement, k-type
Smartphone APP: DMM
Works with UT-D07A Bluetooth adaptor
Download from Apple Store or Google Play Store
Specifications Of UNI-T UT71C Handheld Multimeters Ac Dc Voltage Meter:
DC Voltage Range: 400mV/4V/40V/400V/1000V
DC Voltage Accuracy: ±(0.025%+5)
AC Voltage Range: 4V/40V/400V/1000V
AC Voltage Accuracy: ±(0.4%+30)
DC Current Range: 400µA/4000µA/40A/400mA/10A
DC Current Accuracy: ±(0.08%+8)
AC Current Range: 400µA/4000µA/40A/400mA/10A
AC Current Accuracy: ±(0.5%+15)
Resistance Range: 400Ω/4kΩ/40kΩ/400kΩ/4MΩ/40MΩ
Resistance Accuracy: ±(0.3%+8)
Capacitance Range: 40nF/400nF/4µF/40µF/400µF/4mF/40mF
Capacitance Accuracy: ±(1%+20)
Frequency Range: 40Hz/400Hz/4kHz/40kHz/400kHz/4MHz/40MHz/400MHz
Frequency Accuracy: ±(0.01%+8)
Temperature, ºC Range: -40~ 1000ºC
Temperature, ºC Accuracy: ±(1%+30)
Duty cycle Range: 10%~90%
Duty cycle Accuracy: ±(1%+30)
4~20mA Loop Range: 0~100%
4~20mA Loop Accuracy: ±(1%+50)
Power supply: 9V battery: NEDA 1604, 6F22 or 006P
Dimensions (H × W × D): 200 × 93 × 40 mm
Weight, g: 340 (including battery)
Package includes:
1 x Multimeter UNI-T UT71C
1 x Point contact temperature probe
2 x Test leads
2 x Alligator clips
1 x USB interface cable
1 x CD with software
1 x Power adaptor
1 x Carrying bag
1 x User manual
Best Online Shopping website for UNI T Multi-Purpose Digital Professional Intelligent Multimeter UT71C Pocket Size Avo Meter DC AC Voltage Current Meter Tester in cheap price in Karachi, Lahore, Islamabad, Rawalpindi, Peshawar, Multan, Quetta, Faisalabad and all over Pakistan.
SKU:

RAWLIXUNI

/
Category: Meters
/