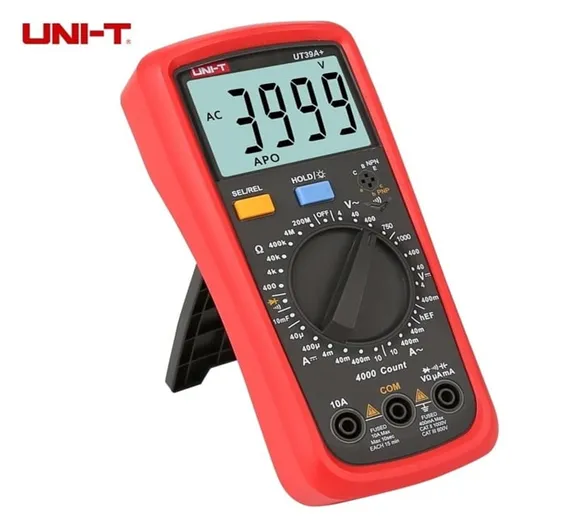 UNI-T Digital Multimeter UT39A+ is ergonomic design, comfortable and solid. This UT 39A+ multimeter can withstand a drop of 2 meters height, 3 times/second refresh rate. Uni-T UT39A Plus modern multimeter is full protection which can withstand overvoltage shock up to 1kV, and designed with overvoltage and overcurrent alarm. This AC DC voltmeter ammeter resistance-capacitance tester is fast capacitance measurement, response time is within 6s when capacitance ≤ 10mF. UT-39A+ LCD backlight data hold multimeter tester has these features like Audio/Visual alarm in continuity and NCV modes, low power consumption, automatic power-saving prolongs battery life up to 500 hours.
Features Of UNI-T LCD Digital Multimeter Manual Range UT39A Plus:
Ideal for commercial settings where it can handle the demands of a long workday, from the durable exterior to the wide range of heavy-duty capabilities.
UT39A+ is a portable multimeter designed for electric industry, it has overvoltage and overcurrent alarm functions, and high voltage protection for misoperation, complying with CAT II 1000V/CAT III 600V safety standards.
1000V DC voltage measurement.
750V AC voltage measurement.
Resistance / capacitance / frequency / temperature triode.
On/off test function.
UT39A+ don't have NCV Temperature Frequency function. But UT39C+ with these function. Hope customer choose carefully to avoid unnecessary trouble.
Specifications Of Electronic Multimeter UNI-T UT 39A+ :
Package includes:
1 x UNI T UT39A+ Digital Multimeter
1 x Test leads
Best Online Shopping website for UNI T UT39A+ Digital Multimeter AC DC Voltmeter Ammeter Resistance Capacitance Tester Diode and Transistor Test UT-39A+ in cheap price in Karachi, Lahore, Islamabad, Rawalpindi, Sukkur, Peshawar, Multan, Quetta, Faisalabad and all over Pakistan.
SKU:

RAWLIXUNI

/
Category: Meters
/