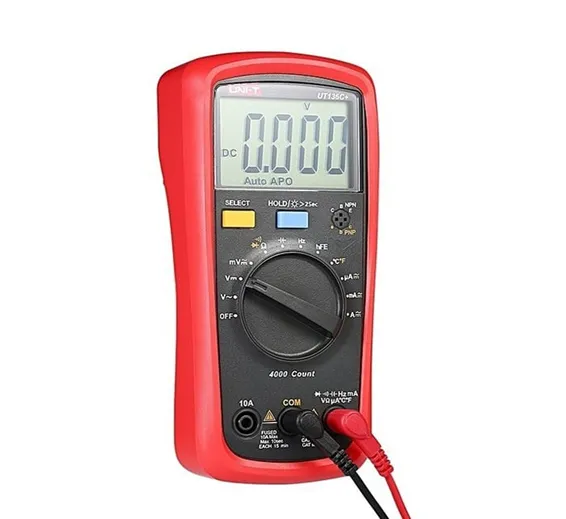 UNI T Digital Multimeter UT136C+ is used to measure AC/DC voltage, capacitance, connectivity, resistance. UT136C plus ac dc multimeter are mini handheld auto-ranging digital multimeters that offer users complete functions, stable performance, low power consumption, novel structural design, a high degree of safety and reliability. This UT-136C+ DMM multimeter, therefore, becomes an ideal portable tool for maintenance and repair. This voltage multimeter is applicable for homes, schools, metallurgy, communications, manufacturing, national defence, electric power, chemical industry, etc, and the series is the best choice for electric circuit/equipment maintenance and repair.
UNI-T UT136C Plus Auto Power Off Multimeter:
Measures up to 1000V and 10A AC/DC voltage and current
Equipped with 3mm protective sleeve; 2 meters drop proof.
Large LCD display; Overload alarm.
The quick sampling rate, up to 4 times/s.
Quick capacitor measurement (measures 1mF in 4 seconds).
Low power consumption and auto power-saving function; long battery service life (>500hrs).
Specifications Of Best Budget Multimeter UNI-T UT-136C+:
DIY Supplies: Electrical
Display Type: Digital Display
Operating Temperature: 0 - 40 ℃
Brand Name: UNI-T
Dimensions: 175mm x 83mm x 50mm
Model Number: UT136C+
Measuring Resistance Range: 400ohm/4kohm/40kohm/400kohm/4Mohm/40Mohm
Measuring Capacitance Range: 4nF/40nF/400nF/4uF/40uF/400uF/4mF/40mF
Operating Mode: Automatic range
AC Voltage: 400mV/4V/40V/400V/1000V
DC Voltage: 400mV/4V/40V/400V/1000V
AC Current: 400uA/4000uA/40mA/400mA/4A/10A
DC Current: 400uA/4000uA/40mA/400mA/4A/10A
Display count: 4000
hFE: YES
NCV: only(UT136C+)
Temperature: only(UT136C+)
Continuity buzzer: YES
Diode/transistor: YES
Data hold: YES
Auto power: YES
LCD backlight: YES
Power: AA1.5*2
Package includes:
1 X Uni-T UT136C+ Digital Multimeter
2 X Test lead
1 X Point type temperature probe
1 X User Manual
Best Online Shopping website for UNI-T Handheld Pocket Size Digital Multimeter UT136C+ Best Budget Avo Meter Meter DC AC Voltage Current Resistance Meter Tester Voltmeter Ammeter Ohmmeter Tester UT-136C Plus in cheap price in Karachi, Lahore, Islamabad, Rawalpindi, Sukkur, Peshawar, Multan, Quetta, Faisalabad and all over Pakistan.
SKU:

TMD1,Th6,KRT

/
Category: Meters
/