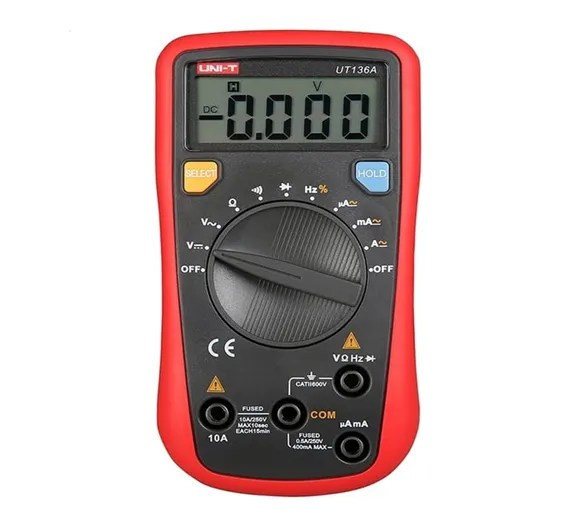 Multimeters
UNI T Digital Multimeter UT136A
Availability:
Out Of Stock
SKU: TMD1,Th6,KRT
UNI T Digital Multimeter UT136A is one of the best meters for measuring duty cycle volt-ohm frequency. UT-136A digital portable multimeter measures 4000 counts auto-range feature allows quick and effective measurements. UT136 series multimeters are general type auto ranged meters for daily use. This handheld meter is small in size, handy for all operating environments. Its UT 136 A AC/DC voltmeter ammeter multitester is a great tool for electricians and DIYers.
Features Of UNI-T UT136A AC/DC Current Voltage Resistance Frequency Tester:
Duty cycle volt-ohm frequency multimeter.
Modern appearance, palm-size design, comfortable grip, easy to carry.
Input Impedance for Voltage Measurement :≥10MΩ.
An ideal tool for equipment testing, maintenance and repair widely needed in electronics, electric power, schools, metallurgy, communications, manufacturing, petroleum, national defence, chemical industry, etc.
High quality, Professional and 100% brand new.
Max. Display: 4000.
Auto power off.
Auto range.
Specifications Of UNI-T UT136A Standard Resistance Meter:
DC Voltage (V): 400mV/4V/40V/400V/500V ±(0.8%+1)
AC Voltage (V): 400mV/4V/40V/400V/500V ±(1.2%+3)
DC Current (A): 400uA/4mA/40mA/400mA/4A/10A ±(1.0%+2)
AC Current (A): 400uA/4mA/40mA/400mA/4A/10A ±(1.2%+5)
Resistance (Ω): 400Ω/4KΩ/40KΩ/400KΩ/4MΩ/40MΩ ±(1%+2)
Frequency (Hz): 10Hz/100Hz/1kHz/10kHz/100kHz/1MHz/10MHz ±(0.5%+3)
Communication bandwidth: 40Hz~400Hz
Duty Cycle: 0.1%~99.9%
Diode: yes
Continuity Buzzer: yes
Low Battery Indication: yes
Auto Range: yes
Input Impedance for DCV Measurement: 10MΩ
Data Hold: yes
Max Display: 3999
Auto Power Off: yes
Power: 9V Battery(6F22)
LCD Size: 49mm×18mm
Product Color: Red and Grey
Product Net Weight: 200g(Battery included)
Product Size: 72mm x 137mm x 35mm
Package Include:
1 x UT136A Digital Multimeter ( no including the battery or retail box )
2 x Test lead
1 x Manual English
Best Online Shopping website for UNI-T Pocket Size Digital Multimeter UT136A Avo Meter DC AC Voltage Current Resistance Meter Tester Voltmeter Ammeter Ohmmeter Tester UT-136A in cheap price in Karachi, Lahore, Islamabad, Rawalpindi, Sukkur, Peshawar, Multan, Quetta, Faisalabad and all over Pakistan.
Package includes:
UNI-T UT136A digital multimeter
SKU:

TMD1,Th6,KRT

/
Category: Meters
/