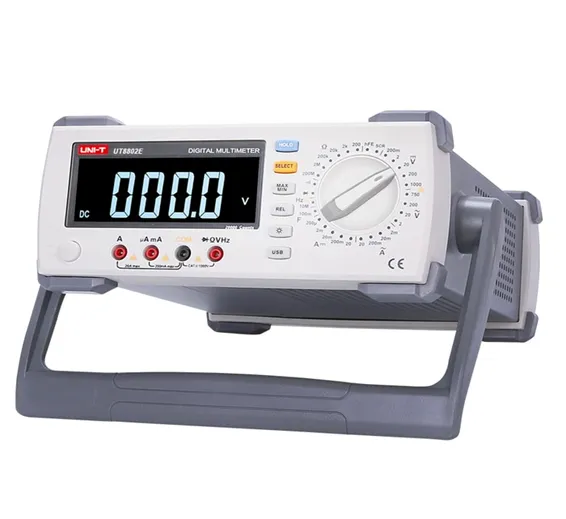 UNI T Benchtop Digital Multimeter UT8802E is a manual range benchtop digital multimeter. This UNI T digital multimeter UT8802E that features 19999 display counts, Large LCD screen with backlight. scale overload protection and unique design. This desktop multimeter UT-8802E can be used to measure AC and DC voltage, AC and DC current, resistance, frequency, capacitance, the transistor, hFE, the diode (LEO), SCR, continuity, etc. This manual relevant safety and warning information.
Features Of UNI-T UT-8802E Multimeter Benchtop:
True RMS (UT8803E)
Diode/transistor
SCR thyristor test (UT8803E)
Inductance measurement (UT8803E)
USB interface
EBTN LCD screen
Data hold
MAX/MIN
Continuity buzzer
Specifications Of UNI-T UT8802E Multimeter:
20,000 Count EBTN LCD Display
DC Voltage: 200mV/2V/20V/200V/1000V
AC Voltage: 2V/20V/200V/750V
DC Current: 200μA/2mA/20mA/200mA/20A
AC Current: 2mA/20mA/200mA/20A
Resistance: 200Ω/2kΩ/20kΩ/200kΩ/2MΩ/200MΩ
Capacitance: 20nF/200nF/2μF/20μF/200μF/2mF/20mF/100mF
Frequency: 200Hz~10MHz
Duty cycle: 5%~99%
Frequency response: 1 kHz
USB Interface
Data hold
MAX/MIN
Continuity buzzer
Diode/transistor
test
CAT II 600V
Package Includes:
1 x
USB interface
cable
1 x Power cord
1 x Simple test lead with alligator clips
1 x Standard test leads
1 x PC software CD
Best Online Shopping website for UNI T Benchtop Digital Multimeter UT8802E Best Bench Multimeter Desktop Multimeter in cheap price in Karachi, Lahore, Islamabad, Rawalpindi, Sukkur, Peshawar, Multan, Quetta, Faisalabad and all over Pakistan.
SKU:

TMD1,Th6,KRT

/
Category: Meters
/