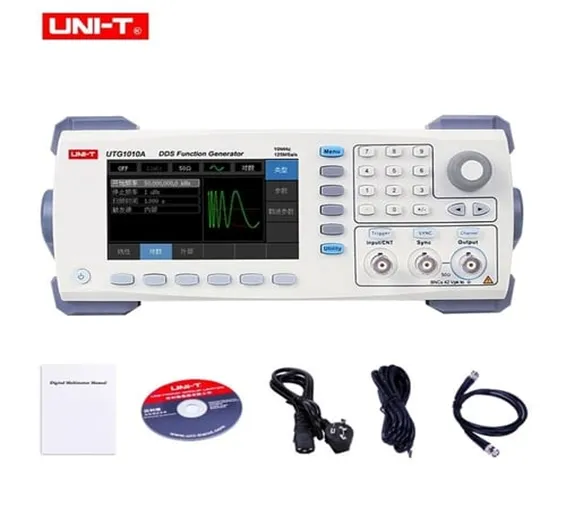 UNI T 10MHz Function Generator UTG1010A function/arbitrary waveform generators adopt direct digital synthesis technology to produce accurate and stable waveform output with 1Hz resolution. This UTG 1010A function waveform generator has modulations such as AM, PM, FM, ASK, FSK etc. This arbitrary waveform with an internal or external source, linear and logarithmic sweeps and USB interface are available. This function signal generator is ergonomically constructed for simple operation.
Features Of UNI-T Function/Arbitrary Waveform Generator UTG-1010A:
5MHz / 10MHz / 20MHz sine wave output, 1µHz full band resolution
5MHz pulse waveform output, rise and fall time adjustable
125MSa / s sampling rate and 14-bit vertical resolution
Dual-channel performance standard
16 nonvolatile waveform memory
Modulation modes: AM, FM, PM, ASK, FSK, PWM
4.3 inch high-resolution TFT LCD display
Standard interface: USB Device
Specifications Of 10MHz 1CH Signal Function Generator 125MSa/s 4.3'' TFT LCD USB:
Model: UTG1010A
Channel: 1
Sampling rate: 125MS/s
Output frequency: 10MHz
Sine: 1μHz~10MHz
Square: 1μHz~5MHz
Ramp: 1μHz~400kHz
Pulse: 1μHz~5MHz
Arbitrary: 1μHz~2MHz
Resolution: 1μHz
Accuracy within 90 days: ± 50ppm, 18℃~28℃
Accuracy within 1 year: ± 100ppm, 18℃~28℃
Vertical resolution: 14 bits
Max. memory depth: 16 sets of arbitrary waveforms
Output standard waveform: Sine, square, ramp, triangle, pulse, noise, DC, arbitrary
Output amplitude range: 1mVpp~10Vpp (50Ω); 2mVpp~20Vpp (High Z)
Modulation types: AM, FM, PM, PWM, ASK, FSK, PSK
Interface: USB Device
Power: 100~240V AC, 50Hz/60Hz
Display: 4.3 inches TFT LCD, WVGA (480 x 272)
Package Includes:
1 x UNI-T function/arbitrary waveform generator UTG-1010A
1 x USB interface cable
1 x power cord
1 x BNC-BNC cable
1 x PC software CD
1 x User manual
Best Online Shopping Website for UNI T 10MHz DDS Function Generator UTG1010A Digital Arbitrary Waveform Rectangular Wave Function Generator in cheap price in Karachi Lahore Islamabad Faislabad Sukkur Multan Peshawar Quetta Gujranwala Rawalpindi and all Over Pakistan.