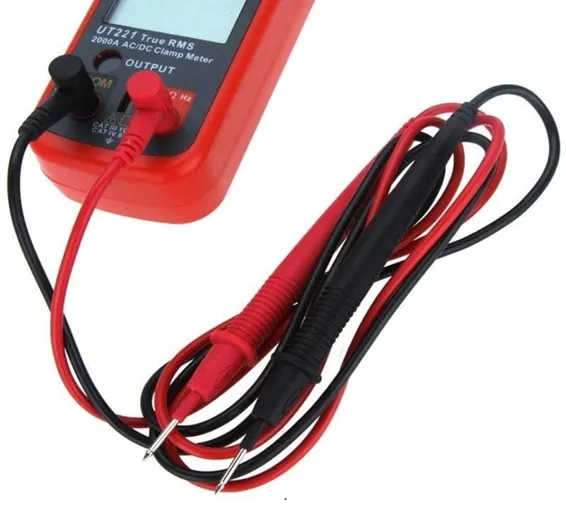 UNI-T UT221 is a reliable digital clamp meter that is designed for measuring AC/DC current, AC/DC voltage, resistance, frequency and performing diode check and continuity test. Clamp Ampere Meter is stable and safe 3 5/6 digit AC&DC digital clamp meters.AC/DC Tong tester UT221 is perfectly designed with overload protection for all ranges and the unique structure, making it a superb professional meter especially for electricians. Earth leakage Clamp Meter can measure up to 2000A current. Handheld Digital Clamp Multimeter is an ideal tool for the maintenance and troubleshooting needed in metallurgy, manufacturing, petroleum, electric power, chemical industry, etc
Features Of PortableTrue RMS Digital AC/DC Clamp Ampere Meter UT221:
True RMS device
UNI T UT221 can measure AC/DC voltage and current
UNI T UT221 can also measure Frequency and resistance
UNI T UT221 has a 6000 display count
UNI T UT221 has a low passing filter
UNI T UT221 has an iconic display:
UNI T UT221 has an input impedance of 10M
UNI T UT221 can test diode and has continuity buzzer
UNI T UT221 can hold data
Auto-ranging.
Auto power-off function.
Low battery display.
Specifications Of UNI-T UT221 Handheld Multi-Range Earth Leakage Digital Tong Tester:
Power: 9V battery (6F22)
LCD Display: 43mm x 30mm
Dimension: 298mm x 100mm x 48mm
Color: Red and Grey
Jaw Capacity: 63mm
Duty Cycle: 10%~90%
DC voltage:

Accuracy: ±(0.8%+1)
Range: 6.6V/66V/660V/750V

DC current:

Range: 660A/2000A
Accuracy: ±(2.5%+5)

AC voltage:

Range: 6.6V/66V/660V/750V
Accuracy: ±(1.2%+5)

Frequency:

Accuracy: ±(0.1%+3)
Range: 66Hz/660Hz/6.6kHz/66kHz/660kHz/6.6MHz/20MHz

Resistance:

Accuracy: ±(1%+2)
Range: 660O/6.6kO/66kO/660kO/6.6MO/66MO

AC current:

Range: 660A/2000A
Accuracy: ±(2.5%+5)
Package Includes:
1x clamp meter 2000A UNI-T UT221
Best Online Electronics Store for Modern Digital portable True RMS Clamp meter 2000A UT221 AC Voltmeter Ammeter and Resistance MultiTester in cheap price in all over Pakistan