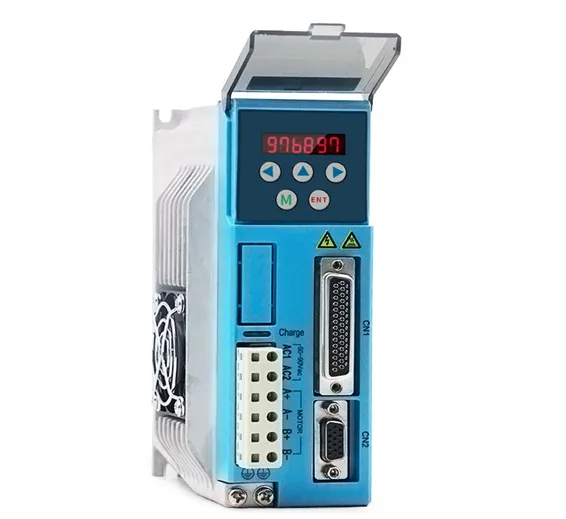 Motor Drivers
Hybrid Step Servo Motor Driver 2HSS858H NEMA 24 NEMA34 Closed Loop in Pakistan
SKU: TMD,Th,KRT
Hybrid Step Servo Motor Driver 2HSS858H integrates servo control technology into the digital step driver. This Closed Loop Hybrid stepper servo drive system adopts typical tricyclic control method which include current loop, speed loop and position loop. This product has the advantage of both step and servo system and is a highly cost-effective motion control product.
Specifications:
Voltage range: 50-90VAC
Type:Hybrid
Certification:CCC,ce
Phase:2
Step Angle(degrees):1.8
Current / Phase:6A
Model Number:86J18118EC-1000+2HSS858H
Holding Torque:12Nm
Suitable for motor model:nema24, nema 34 stepper servo motor
Drive 86 seat hybrid servo motor
Environment
Cooling: Natural Cooling or Forced Convection
Storage Space:Avoid dust, oil frost and corrosive gases
Ambient Temperature: -20°C - +80°C
Humidity: <80%RH
Vibration: 5.9m/s² Max
Weight: Approx. 1.5kg
Features:
External digital debug panel for easy parameter setting and monitoring
Closed loop vector control to ensure high speed motor torque output, while ensuring that the motor does not lose step
Variable current control, motor heating greatly reduced
No step loss
precise positioning,
100% rated torque drive motor
variable current control technology
high current efficiency, small vibration, low speed stable operation
built-in acceleration and deceleration control, improve the smooth start and stop
the user can customize the segmentation
Compatible with 1000 and 2500 lines encoder
Lack of phase protection, over current protection, over voltage protection and over differential protection.
6- number digtal, easy to set parameter and monitor motor status.
Typical applications:
CNC machine
cutting machine
engraving machine
Advertising industry
Engraving
packaging
lasers
electron industry
medical industry
Printing industry
woodworking
machinery industry
Ceramic Industry
stone industry and so on.
Package List:
1 x Step Servo Driver