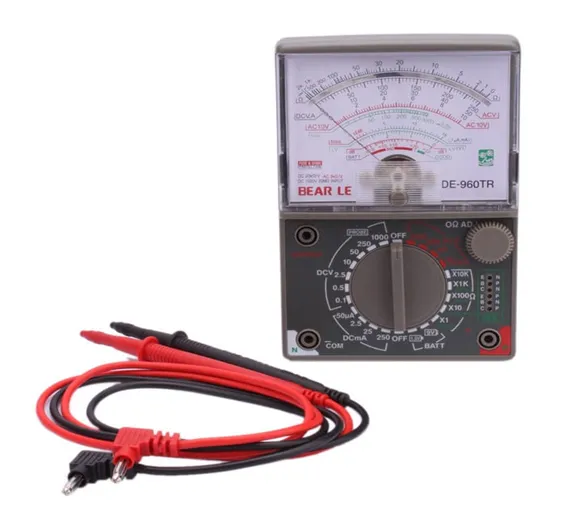 Are you looking for a precise pocket analog multimeter? This DE-960TR electrical analogue meter can satisfy your needs. This DE 960TR multimeter is made of high-quality material. This a portable multimeter is durable and reliable for long time use. Also, the best analog meter has a pair of multimeter pen. This pocket multimeter is easy to use. The ac dc meter has stable performance, high reliability. This durable multifunction pocket pointer multimeter is the best choice for you!
Features Of Analogue Analog Multimeter Electrical Meter DE 960TR:
New and high quality.
A multimeter is a steady function and highly reliable hand-held measuring instrument.
The Meter uses a large scale of the integrated circuit with double integrated A / D converter as its core and has full range overload protection.
The Meter can measure DC current, AC current, DC Voltage, AC Voltage, Resistance etc, which is an ideal tool for users.
Fit for schools, factories, families, and amateur wireless lovers.
Specifications Of AC DC Voltage Multimeter Analog Meter DE 960 TR:
Model: DE-960TR
Condition: New
Direct Voltage: 0.1V / 0.5V / 2.5V / 10V / 50V / 250V / 1000V
Alternating Voltage: 10V / 50V / 250V / 1000V
Direct Current: 50uA / 2.5mA / 25mA / 250mA
Colour: Gray
Packing: 15 x 10 x 4cm / 5.9" x 3.9" x 1.6" (L x W x H)
Weight: 312g
Package Includes:
1 x DE-960TR Handheld Analog AC DC Multimeter Gray
1 x Test Lead Cable
1 x User Manual
Best Online Shopping Website for Handheld Analog AC DC Multimeter DE960TR Energy Analog Meter Ohmmeter Analog Tester Analog Capacitance Meter in cheap price in Karachi, Lahore, Islamabad, Rawalpindi, Sukkur, Peshawar, Multan, Quetta, Faisalabad and all over Pakistan.
SKU:

TMD,Th,KRT

/
Category: Meters
/