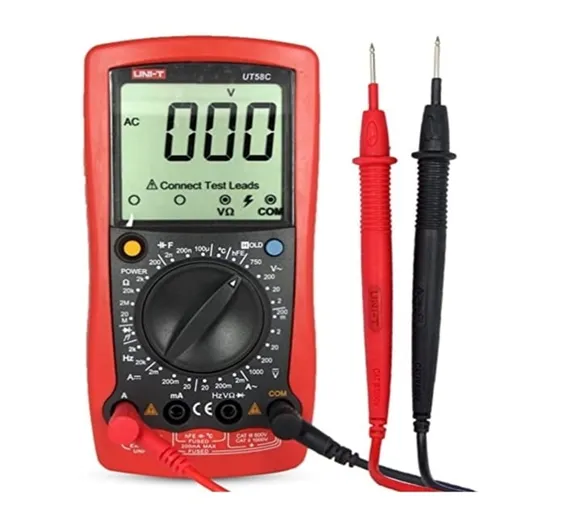 UT58 series is a safe and reliable manual range digital multimeter that is easy to operate. Its large 60mm x 54mm LCD screen conveniently displays measurement results. Palm-size DMM satisfies a variety of applications in both electronics and electrical fields. Portable Digital MultiTester is suitable for measurement of smelting, communication, manufacturing, petroleum, national defense, electric power, chemical industry and other industries Pocket-size Multitester is an ideal tool for the maintenance and repair of the circuit/power equipment.
Features Of Handheld Pocket-size DMM UT58C:
2000 display count, refresh rate 2~3 times/s
Function symbols and test lead connection indication
Transistor measurement
Temperature measurement mode, with K-type temperature probe
Frequency measurement
Diode and continuity buzzer; auto power off; overload protection
Data hold; 20A AC/DC current measurement
Specifications Of UNI-T Modern Digital MultiTester UT58C:
Power: 9VBattery (6F22)
LCD Size: 60×54mm
Max. Display: 1999
Product Color: Red and Grey
Product size: 179mmx88mmx39mm
DC Voltage(V):
Range:200mV/2V/20V/200V/1000V
Accuracy: ±(0.5%+1)
AC Voltage(V):
Range:2V/20V/200V/750V
Accuracy: ±(0.8%+3)
DC Current (A):
Range:20μA/2mA/20mA/200mA/20A
Accuracy: ±(0.8%+1)
AC Current (A):
Range:2mA/200mA/20A
Accuracy: ±(1%+3)
Resistance(Ω):
Range:200Ω/2KΩ/20KΩ/2MΩ/20MΩ/200MΩ
Accuracy:±(0.8%+1)
Capacitance (F):
Range:2nF/200nF/100Μf
Accuracy:±(4%+3)
Frequency(Hz):
Range:2kHz/20kHz
Accuracy: ±(1.5%+5)
Temperature(°C):
Range: -40°C~1000°C
Accuracy: ±(1%+3)
Package Include:
1x UNI-T UT58C General Digital multimeter
Best Online Shopping website for UNI T UT58C General Digital Multimeter AC DC Voltmeter Ammeter Resistance Capacitance pocket-size handheld Multitester in cheap price in Karachi, Lahore, Islamabad, Rawalpindi, Sukkur, Peshawar, Multan, Quetta, Faisalabad and all over Pakistan.
SKU:

TMD1,Th6,KRT

/
Category: Meters
/