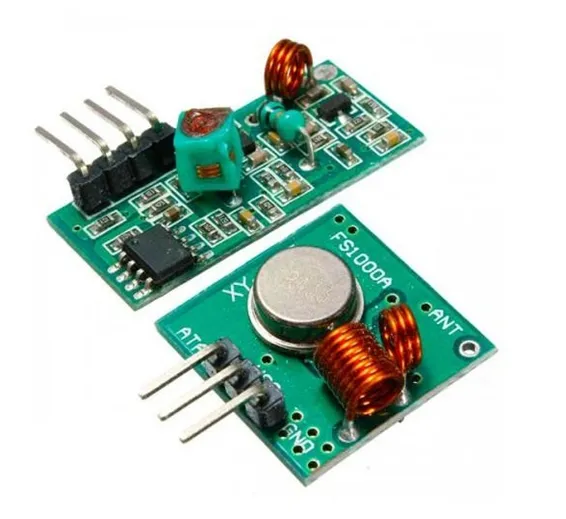 RF Modules
FS1000A 433mHz RF Transmitter Receiver Module Male Pin
SKU: B 170, D 38,IMP100,Th50,KRT516,N85
This is FS1000A 433mHz Tx RF Radio Module. This RF module comprises of an RF Transmitter and an RF Receiver. The transmitter/receiver (Tx/Rx) pair operates at a frequency of 433 MHz. An RF transmitter receives serial data and transmits it wirelessly through RF through its antenna connected at pin4.
The transmission occurs at the rate of 1Kbps – 10Kbps. The transmitted data is received by an RF receiver operating at the same frequency as that of the transmitter.
This low-cost RF transmitter can be used to transmit signal up to 100 meters (the antenna design, working environment, and supply voltage will seriously impact the effective distance). It's good for a short distance, battery power device development. 433 MHz is the operating frequency for transmitter and receiver pair.
Features :
Wide input supply (2.5 V to 12V)
Easy to integrate (V+, GND, and Data)
The device in deep sleep mode when Data pin is grounded
Very small dimension.
Receiver Module specification
Operation voltage: DC5V
Static Current: 4MA
Receiver frequency: 433.92MHZ; 315 Mhz
Sensitivity:-105DB
Dimension:30*14*7mm
External Antenna:32CM signal wire,spiral
Transmitter Module Specification
Operating voltage: 3-12V
Operating frequency: 433.92MHz; 315Mhz
Standby current: 0mA
Operating current :20-28mA
Transmission distance:> 500m (open to receiving plate sensitivity at-103dBm distance of more than)
Output Power: 16dBm (40mW)
Transfer rate: <10Kbps
Modulation mode: OOK (Amplitude Modulation)
Operating Temperature: -10 ℃ ~ +70 ℃
Size: 19 × 19 × 8mm
Package Includes :
1 x FS1000A 433mHz Transmitter
1 x FS1000A 433mHz Receiver