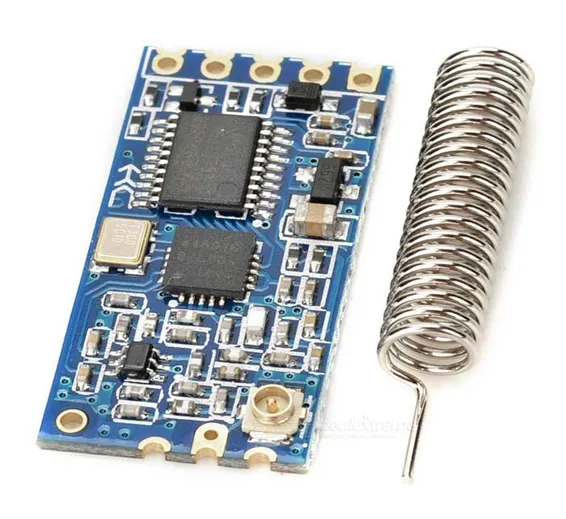 RF Modules
433Mhz HC12 HC-12 SI4463 Wireless Serial Port Module in Pakistan
SKU: SB123,IMP50,Th20,KRT525
433Mhz HC12 HC-12 SI4463 Wireless Serial Port Module is a multichannel embedded wireless transceiver module with 433.4-473.0HMz working frequency and 100 communication channel, long transmission distance up to 10m in the open air. Stamp holes edge design support SMD installing easy to embed into the application devices. On-board SMA(ANT1) and solder joint(ANT2)two type antenna connecting port, you can install the SMD coaxial antenna, helical antenna or DIY 433MHz antenna perfect for DIY short distance wireless data transmission system such as a wireless sensor, smart building safeguard system, automation data acquisition, etc.
Features:
Long-distance wireless transmission up to 1,000m in open space with baud rate 5,000bps in the air, perfect replace the Bluetooth in the short distance data transmission area
The 433.4-473.0MHz working frequency with various communication channels up to 100
Maximum 100mW transmitting power(settable 8 class), 3.2-5.5V low voltage power supply, Three serial passthrough mode, adapting to different application situations
Compact size with stamp holes edge design supporting SMD installing embedded into the application devices easily
Ship it out by USPS with tracking information and 7-17 days delivery time usually
Specifications:
Working Voltage: 3.2-5.5V(If the module work long time and the power supply voltage over 4.5V please concatenate a 1N4007 diode)
Default Communication Distance(approx.): 600m(Maximum communication distance up to 10m, 5000bps baud rate)
Idle Current:16mA
Working Frequency: 433.4-473MHz
Transmitting Power(max.):100mW
Default Factory Setting: working mode FU3, baud rate 9600bps, communication channel CH001(433.4M)
Size:27.8 X 14.4 X 4mm
Working Mode:
1.FU1: the idle current is 3.6mA, serial rate:1200bps 2400bps 4800bps 9600bps 19200bps 38400bps 57600bps 115200bps and the air baud rate is 250000bps, transmission delay time is 4~80mS 2.FU2: the idle current is 80μA, serial rate:1200 bps,2400 bps and 4800 bps and the air baud rate is 250000bps, transmission delay time is 500mS(There are some bugs in this mode, kindly suggest not use this mode)
3.FU3: the idle current is 16mA, serial rate(air baud rate): 1200bps 2400bps(5000bps),4800bps 9600bps(15000bps), 19200bps 38400bps(58000bps),57600bps 115200bps(236000bps),transmission delay time is 4~80mS.
Package Includes:
1X SI4463 433Mhz Wireless Serial Port Module Transceiver