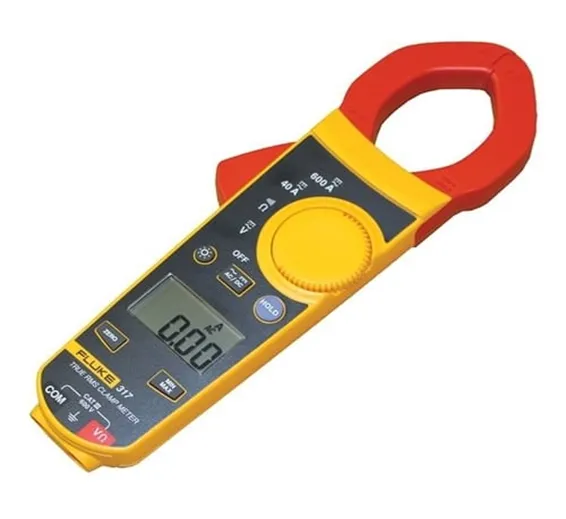 Clamp Meters
FLUKE 317 True RMS 600A Digital Clamp Meter AC DC Voltage And Current Tester
SKU: F317B23
Fluke 317 Digital Clamp Meter Volt Amp REL True RMS with Orginal Case. The Fluke 317 is designed with ergonomic concepts, shaped to fit your hand and to access tight spots easily. The Fluke 317 also offers AC/DC current measurements and has a higher resolution. In addition to a compact package with a strong feature set.
Features:
Unique 40A small range, high accuracy current test-0.01A high resolution, 1.6% high precision measurement
Slim jaws and lightweight body make it easier to use in narrow spaces
Large backlit display for easy reading in dark environments
Digital clamp meter accuracy higher than 0.01A and 0.1V
600A AC / DC current measurement
600V AC / DC voltage measurement
Automatic shutdown function to maximize battery life so the meter can work when needed
Data Hold: Display hold function to keep the measurement results on the screen
Please note this Fluke 317 can't measure Capacitance, Please know it!
Specifications:
Display: 6000 Resolution
Battery: 3xAAA IEC LR03
Jaw opening: 1.45 in (37 mm)
AC Current:

Range: 40.00 A, 600.0 A
Accuracy:

2.5% ± 5 (60-500 Hz) {600A}
1.5% ± 5 (50-60 Hz) {600 A}
2.5% ± 8 (60-500 Hz) {40 A}
1.6% ± 6 (50-60 Hz) {40 A}

Resolution: 0.01 A, 0.1 A
crest factor add 2% into spec for CF > 2 : 3.0 max @ 500 A, 2.5 max @ 600 A

DC Current:

Range: 40.00 A, 600.0 A
Accuracy: 1.6% ± 6 (40 A), 1.5% ± 5 (600 A)
Resolution: 0.01 A, 0.1 A

AC Voltage:

Resolution: 0.1v
Accuracy: 1.5% ± 5 (20-500Hz)
Range: 600.0 V

DC Voltage:

Resolution: 0.1V
Accuracy:1% ± 4
Range: 600V

Resistance:

Resolution: 0.1 Ω, 1 Ω
Accuracy:1% ± 5
Range: 400.0 Ω, 4000 Ω

Continuity: ≤ 30 Ω
Operating temperature: 14°F to 122°F (-10 °C to 50 °C)
Storage temperature: -40 °F to 140 °F (-40 °C to 60 °C)
Dimension (LXWXH): 6.39 in x 2.29 in x 1.20 in(162.4 mm x 58.25 mm x 30.5 mm)
Package Include:
Fluke 317 meter
Test leads
Best online shopping website for fluke 317 True RMS 600A Digital Clamp Meter AC DC Current And Voltage Tester at cheap price in Lahore, Islamabad, Karachi, Faislabad, Multan, Quetta, Sukkur, Peshawar, Rawalpindi, and all over Pakistan