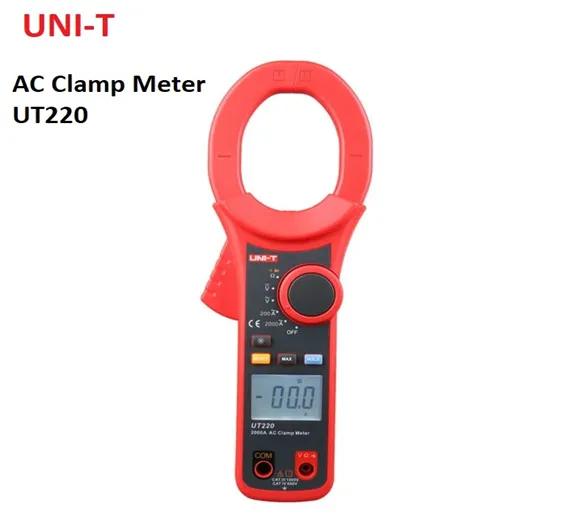 UT220 series is a stable, safe and reliable3 1/2 AC and DC Digital Clamp Meters from UNI-T with full range overload protection, and unique appearance design, which becomes more superior performance of electrical instruments. Handheld Digital AC Clamp tester is suitable for smelting, manufacturing, petroleum, electric power, chemical industry, etc. Portable tong tester UT220 is used to measure AC voltage and current, DC Voltages and Resistance. Ampere Clamp Meter has a 2000 display count. Auto Range AC current clamp Multimeter is an ideal tool for the maintenance and repair of the circuit, power equipment.
Features Of Handheld Portable Digital Ac Current Clamp Tester UT220:
It is Specially used to measure AC Current
It has a full Icon display
It has full range Overload Protection
It has an input impedance of 10M
A strong case for protection, do not be afraid of dropping.
The insulated protector can effectively protect you during your manipulation.
Specifications Of UNI-T UT220 Multi-Range Ac Ampere Clamp Multimeter:
Power: 9V Batteries (6LF22)
LCD Display: 43mm x 30mm
Dimension: 298mm x 100mm x 48mm
Color: Red and Grey
Jaw Capacity: 63mm
DC voltage:
Range:2V/20V/200V/1000V
Accuracy: ±(0.8%+1)
AC voltage:
Range: 2V/20V/200V/750V
Accuracy: ±(1.2%+5)
AC current:
Range: 200A/2000A
Accuracy: ±(2.5%+5)
Resistance:
Range: 200Ω/2KΩ/20KΩ/200KΩ/2MΩ/20MΩ
Accuracy: ±(1%+2)
Package includes:
1x clamp meter 2000A UNI-T UT220
Best Online Shopping website for Modern Digital portable Clamp meter 2000A UT220 AC Voltmeter Ammeter and Resistance MultiTester in cheap price in Karachi Lahore Islamabad Rawalpindi Sukkur Peshawar Multan Quetta Faisalabad and all over Pakistan
SKU:

TMD1,Th6,KRT

/
Category: Meters
/