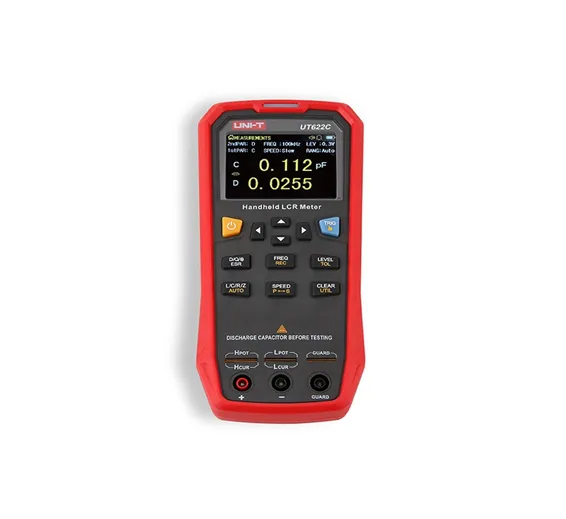 UT622 series (UT622A, UT622C and UT622E) handheld LCR meters feature powerful functions, high accuracy, fast speed, and long standby time.With a clear and intuitive 2.8-inch TFT LCD display, large-capacity rechargeable battery, and up to 100kHz test frequency, the meters can be used for longstanding accurate and convenient measurement in any occasion. They are suitable for the measurement and screening of inductance, capacitance,and resistance in production lines, maintenance points,etc.
SKU: TCBOX88
Applications of UNI-T UT622C Handheld LCR Meter:
Evaluation of resistance parameters of capacitors, inductors, magnetic cores, resistors, piezoelectric devices, transformers, chip components and network components, circuit boards, relays, switches, cables, batteries, etc.
Features of UNI-T UT622C Handheld LCR Meter:
Up to 0.1% measurement accuracy
High-brightness white backlight
Ultra-low power consumption and long battery life (8 hours)
Constant 100Q output impedance
Data hold and recording mode
Standard Mini-USB interface, SCPI command set
Technical Specifications
Specifications
UT622C
Certificates
CE, RoHS
Test frequency
100Hz, 120Hz, 1kHz, 10kHz, 100kHz
Test signal level
0.1Vrms, 0.3Vrms, 1Vrms
Output impedance
100Ω
Measurement parameters
Primary: L/C/R/Z , Secondary: D/Q/θ/ESR
Auto LCR
√
Test terminals
Three-terminal test jacks, five-terminal test sockets
Test rate
Fast (20 times/s), medium (5 times/s), or slow (2 times/s)
Ranging mode
Auto/hold
Tolerance range
1%~20%
Testing circuit mode
Series/parallel mode
Clearing correction
Open/short circuit
Fuse of test ports
0.1A/250V
Communication interface
Mini-USB
LED alarm for tolerance
(pass: green; fail: red)
√
Display range
Maximum reading
99999
Minimum resolution
0.0001
Maximum accuracy
0.001
L
0.00μH~99.999H
C
0.00pF~99.999mF
Z/R
0.0000Ω~9.9999MΩ
ESR
0.0000Ω~999.99Ω
D
0.0000~9.9999
Q
0.0000~99999
θ
-179.9°~179.9°
Temperature coefficient
0.1× (specified accuracy) /°C (0°C~18°C or 28°C~40°C)
General Characteristics
Power
3.7V 1800mAh lithium polymer battery; Input: 220V (1±10%), 50Hz (1±5%); Mini-USB output: 5V, 1A
Display
2.8' TFT LCD 320X240
Product net weight
420g
Product size
93mm x 192mm x 44mm
Standard accessories
Short circuit board (UTR-001), USB cable, 5V 1A power adapter, Alligator clip test leads with rubber plugs (UTR-002)(UT622A), English manual
Standard individual packing
Gift box
Standard quantity per carton
10pcs
Standard carton measurement
370mm × 305mm × 475mm
Standard carton gross weight
13.2kg