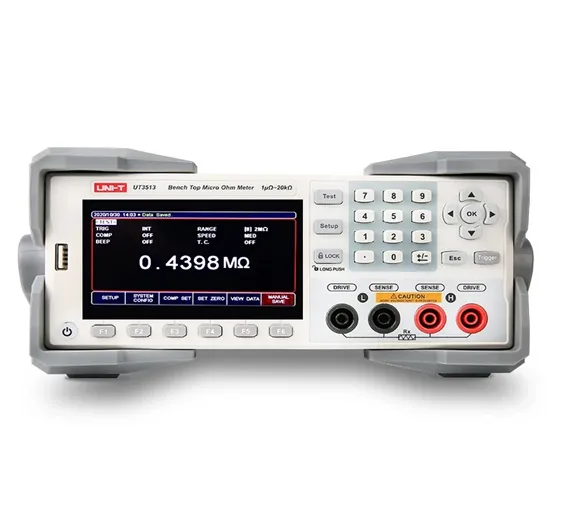 Other Meters
UNI-T UT3513 DC Resistance Tester Microohmmeter
The UT3510 Series Micro Ohm Meters contain 2 models: UT3513 and UT3516, which can be used in professional sorting function, and can judge HI/IN/LO for resistance. The result can be displayed on screen, indicated by buzzer and external I/O output. With enhanced PC remote-control instruction set and compatible with SCPI, the instrument can efficiently process remote-control and data collection function.
SKU: TCBOX98
Features of UNI-T UT3513 DC Resistance Tester Microohmmeter
4.3 inch LCD screen display
0.05% accuracy, with 20000 readings
UT3513 resistance test range: 1μΩ~20kΩ
Range mode
The instrument can realize automatic, manual, and nominal range test modes
Optional test r speed
Three test speeds:
Slow speed: 3 times/sec.
Medium speed: 18 times/sec.
Fast: 60 times/sec.
File management, saving and browsing data
For the measured display value, it can be quickly browsed on the screen of the instrument after manual saving. File management allows users to save settings to 10 files, which is easy to read when starting up or changing specifications.
Comparator function
UT3516 has 6-gear sorting function, and UT3513 has 1 set of comparator functions.
Built-in 10-level comparator output (UT3516): 6 qualified files (BIN1~BIN6),
3 unqualified files (NG, NG LO, NG HI, and 1 total qualified file (OK).
Three ways to select the sound: off, qualified, unqualified Comparison method: direct reading comparison, absolute value tolerance, percentage tolerance.
Configure rich interfaces
RS-232/RS-485 interface: Use SCPI and Modbus RTU protocols to communicate with computers, PLCs or WINCE devices to efficiently complete remote control and data acquisition functions.
USB Device: It can simplify the communication between the computer and the instrument.
HANDLER interface: used to realize online operation to facilitate automatic control with user system control.
Components Temperature compensation sensor input interface: the instrument has a built-in temperature compensation interface to compensate for test errors caused by ambient temperature.
USB Host interface: used to save data or screenshots.
Technical Specifications of UNI-T UT3513 DC Resistance Tester Microohmmeter
| | |
| --- | --- |
| Model | UT3513 |
| MEASURING RANGE | 1μΩ~20kΩ |
| MAX. TEST RATE | 18 times/s |
| CONNECTIVITY | Handler,RS232,USB Device,USB Host |
| SIZE | ½ 2U |
| DISPLAY | 4.3 inches TFT LCD |
Accessories of UNI-T UT3513 DC Resistance Tester Microohmmeter
| | |
| --- | --- |
| Model | Description |
| UT-L82 | Kelvin test lead (four-terminal wiring type) |
| UT-T20 | Temperature compensation probe |