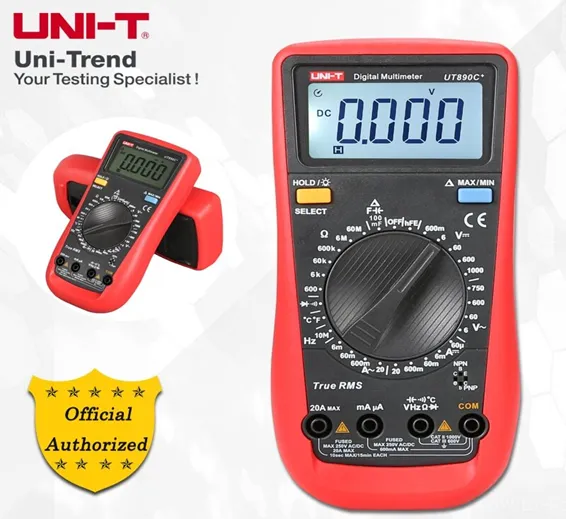 A digital multimeter is a test tool used to measure two or more electrical values principally voltage (volts), current (amps) and resistance (ohms). UNI T True RMS DMM is a standard diagnostic tool for technicians in the electrical/electronic industries. The UNI-T UT890C+ 6000-count true RMS digital multimeters are designed with a large LCD display for measuring AC/DC voltage & current, resistance, frequency, capacitance, temperature and performing hFE, diode, continuity tests. UNI-T Standard Multimeter UT890C+ is ergonomic design, comfortable and solid. UT890C+ Multimeter is a cheap accurate multimeter for very tight budgets.
Features Of True RMS DMM UT890C+:
Overload protection up to 600V.
Data hold and True RMS function.
Low battery indicating protection.
High accuracy and resolution up to 6,000 counts.
Add to unique MAX-MIN value calculate function.
It can measure the diode whose voltage drop is up to 3V. So it is very suitable to measure LED.
Fuse blowing alarm.
Over-current alarm (≥20A).
Auto power-off function.
It also measures temperature °C and °F
LCD backlight.
Specifications Of Digital Multimeter UNI-T UT890C+:
DC voltage:
600.0mV: ±(0.5%+4)
6.000V/60.00V/600.0V: ±(0.5%+2)
1000V: ±(0.7%+10)
AC voltage :
6.000V/60.00V/600.0V: ±(0.8%+3)
750V: ±(1.0%+10)
DC Current:
60.00uA/6.000mA/60.00mA: ±(0.8%+8)
600.0mA: ±(1.2%+5)
20A: ±(2.0%+5)
AC Current:
6.000mA/60.00mA: ±(1.0%+12)
600.0mA: ±(2.0%+3)
20A: ±(3.0%+5)
Resistance:
600.0Ω: ±(0.8%+5)
6.000kΩ¸/60.00kΩ¸/600.0kΩ¸/6.000MΩ: ±(0.8%+3)
60.00MΩ:± (1.0%+25)
Capacitance:
6.000nF: ±(5.0%+35)
60.00nF ~ 600.0uF: ±(2.5%+20)
6000uF: ±(5%+10)
Frequency:
9.999Hz ~ 9.999MHz: ±(0.1%+5)
Frequency Measuring range:
10Hz~10MHz (Auto range)
≤100kHz: 100mVRMS≤ Input ≤30VRMS,
>100kHz~1MHz: 200mVRMS ≤ Input ≤ 30VRMS,
>1MHz: 600mVRMS ≤ Input ≤ 30VRMS
Temperature :
-400 ℃ ~ 1000 ℃: ± (1.0% + 3)
-40 ℉ ~ 1832 ℉ : ± (1.5% + 5)
Package Include:
1 x UNI-T UT890C+ Digital Auto Range True RMS Multimeter
1 x Test Probe
Best Online Shopping website for UNI T UT89C+ True RMS Digital Multimeter AC DC Voltmeter Ammeter Resistance Capacitance Tester in cheap price in Karachi, Lahore, Gujranwala, Islamabad, Rawalpindi, Sukkur, Peshawar, Multan, Quetta, Faisalabad and all over Pakistan.
SKU:

RAWLIXUNI

/
Category: Meters
/