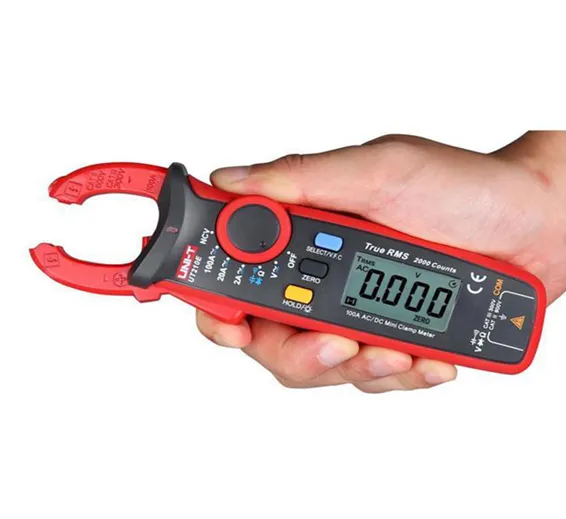 UT210 series mini clamp meters are provided with the features of high reliability, security, auto rang, and small-size. UNI-T UT-210E tong tester can test the small current signal precisely. UT 210E multimeter clamp meter, the chip itself has a VFC start-up model, and there is a specific filter circuit inside, which can filter the high-frequency interference signal and ensure the accuracy of the measurement. This small clamp meter can be applied in the situation such as variable frequency voltage and current with VFC.
Features Of AC/DC Voltage Ohm Capacitance Clamp Multimeter UNI-T UT210E:
Ultra-portable tools for advance electricians
100A AC and DC current measurement with 1mA resolution
True RMS response for AC current
V.F.C function for measuring the signal at variable frequency
600V AC and DC voltage measurement
Resistance, diode, continuity and capacitance functions
Non-contact voltage detection with LED indication
Display backlight
Data HOLD, MAX, MIN, MAX-MIN, and ZERO model
Specifications Of UNI-T UT-210E TRUE RMS Digital Clamp Meter:
Alternate Current: 2A/20A/100A
Alternative Current Accuracy: ±(2.5%+5)
Direct Current: 2A/20A/100A
Direct Current Accuracy: ±(2.5%+3)
Alternate Voltage: 2V/20V/200V/600V
Alternative Voltage Accuracy: ±(1%+3)
Direct Voltage Accuracy: ±(0.7%+3)
Resistance: 200Ω/2kΩ/20kΩ/200kΩ/2MΩ/20MΩ
Resistance Accuracy: ±(1%+2)
Capacity: 2nF/20nF/200nF/2μF/20μF/200μF/2mF/20mF
Capacity Accuracy: ±(4%+5)
Display Count: 2000
Auto Range: Yes
Jaw Opening: 17mm
TRMS: Yes
Diode Test: Yes
NCV: Yes
Data Hold: Yes
MAX/MIN mode: Yes
Zero Modes: Yes
Display Backlight: Yes
Auto Power Off: Yes
Continuity Buzzer: Yes
Low Battery Indication: Yes
Input Protection: Yes
Input Impedance DCV: 10MΩ+
Power: 2x1,5V battery AAA
Weight: 170g
Size: 175x60x33mm
LCD Size: 39x26mm
Package Includes:
1 x Digital Mini Clamp Meter UNI-T UT210E
2 x Test Leads
1 x English Manual
Best Online Shopping website for UNI T Digital Clamp Meter UT210E UT-210E AC DC Amp Best Small Clamp Multimeter Mini Tong Tester in cheap price in Karachi, Lahore, Islamabad, Rawalpindi, Peshawar, Multan, Quetta, Faisalabad and all over Pakistan.
SKU:

RAWLIXUNI

/
Category: Meters
/