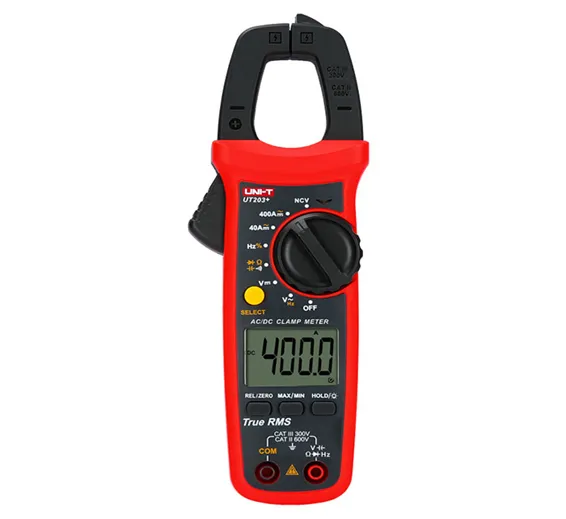 The UT203 + clamp meter is the latest version of the ut203 clamp meter, which has accurate RMS measurements. The UT200 + series is a hand-held automatic range of efficient clamp tester, designed according to safety standard EN61010-2010 CAT II600V/CAT III 300V, it has full function like anti-burning protection and it has high reliability and high Can meet safety process requirements. This AC DC clamp contains the basic functions of multimeter electrical measurement, with high precision measurement, and enhances the current frequency (UT201+/UT202+), high voltage frequency function, It has DC current measurement function in UT203 +, modern appearance design makes it the preferred measurement tool for electronic and electrician with high efficiency.
Features Of UT203+ 400-600A Digital Clamp Meter:
UT203+ with a large LCD display screen and fast ADC / ADC converter, the data display is clear and intuitive, and easy to observe.
UT203+ Supports full-function with error detection protection, with over-current, over-voltage alarm prompts, you can rest assured that use.
UT203+ supports true RMS with high efficiency and real-time measure the RMS of various voltage waveforms.
UT203+ has a maximum 600V voltage measurement and a high voltage frequency measurement function.
UT203+ Supports capacitance measurement function and AC current measurement function (40mF maximum), which is easier to use.
UT203+ can be widely used in commercial, industrial, and residential circuit maintenance. It is a great tool for circuit repairmen.
Specifications Of UT203+ (upgraded UT203):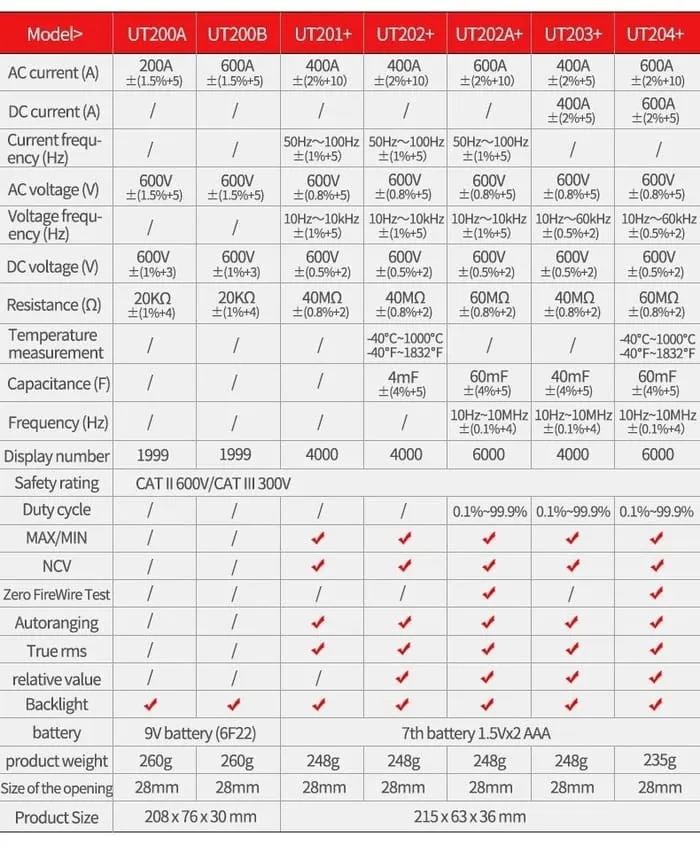 User Manual:
Package Includes:
1 x UNI T Digital Clamp Multimeter UT203+
1 x Pair of Test Leads
1 x Instruction Manual
1 x Black Storage Bag
Best Online Electronics Store in Pakistan for UNI T Digital Clamp Meter UT203+ UT-203 Plus AC DC Amp Clamp Multimeter Mini Tong Tester in lowest price in all over Pakistan.
SKU:

,TMD,Th,KRT

/
Category: Meters
/
Great Experience. Excellent Service and Fast Shipping. Highly Recommended.
Abdul Wahab Khalid
- November 01, 2020