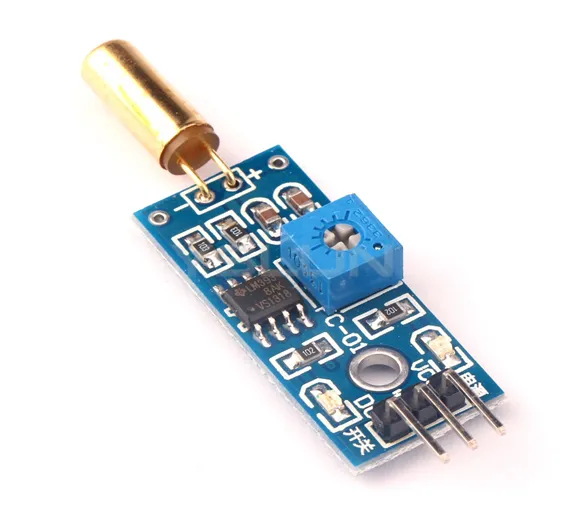 Sensors
Tilt Sensor Module in Pakistan
SKU: B 141,IMP10,Th5,KRT
Tilt Angle Module Vibration Sensor Module for Arduino STM32 AVR,Pic
Size:As the picture shown
With 2pcs 20cm cable
Working Voltage: 3.3-12V
Quantity:1Set
Use:
All kinds of products tilt, dumping trigger alarm, dumping power sensor, tilt sensor. (can only perceive the angle changed)
Module features:
, using high sensitive angle switch SW-520D as the sensor.
, the comparator output, the signal is clean, the waveform is good, the driving ability is strong, more than 15mA.
, working voltage 3.3V-5V
, output mode: digital switching output (0 and 1)
with a fixed bolt hole, easy to install
small size: 3.2cm x 1.4cm PCB
using a wide voltage LM393 comparator
Module instruction
the module wiring please look at the following wiring diagram, a detailed description;
the module output switch depends on the angle of the switch on and off, when the angle switch off, DO output high level, the angle of the switch, DO output low level;
the output can be directly connected with the microcontroller, through the microcontroller to detect high or low level, which is to detect the angle of change;
the output can be directly driven by the relay module, which can be composed of a large power angle switch, protection of electrical equipment and other products automatically cut off when the function.
Package includes:
1xTilt Sensor Module