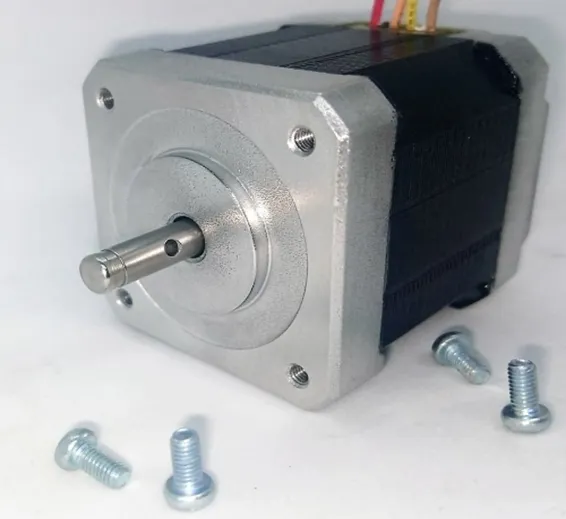 Stepper Motor
NEMA 17 Stepper Motor: Bipolar 1.8 degree, 1.6 ohm For 3D Printer Robotics
SKU: B616,TMD100,Th20,KRT140
This NEMA 17 Stepper Motor is bipolar, For 3D Printer Robotics 1.8° step angle (200 steps/revolution). Each phase draws 1.2 A at 4 V, allowing for a holding torque of 3.2 kg-cm (44 oz-in). When used with a unipolar stepper motor driver. We recommend using it as with DRV8825 or A4988. This motor Satisfies all your robotic needs with a selection of high quality & diverse stepper motors DRV8825 or A4988. These simple but very powerful motors deliver smooth motion and nice holding torque. Our 5x8 coupler can be used to mount objects on the stepper motor's 5 mm-diameter output shaft, and our NEMA 17 aluminum bracket offers a variety of options for mounting this stepper motor in your project. A similar NEMA17 stepper motor is available with the different specification that enables you a wide range of stepper motors from Rawlix.com
Specifications:
Size: 42.3 mm square × 50 mm, not including the shaft (NEMA 17)
Weight: 350 g (13 oz)
Shaft diameter: 5 mm Round
Steps per revolution: 200
Current rating: 1.2 A per coil
Voltage rating: 4 V
Resistance: 1.6Ω per coil
Holding torque: 3.2 kg-cm (44 oz-in)
Lead length: 4cm
Output shaft supported by two ball bearings (internally).
The datasheet is not available for the exact part but here is a similar one that is 95% compatible with this motor. datasheet.
Dimensions:
The dimension labeled "length" is 50 mm. The output shaft has a 5 mm diameter.
The inside of a bipolar stepper motor (SOYO NEMA 14-size).
Stepper Motor Applications
Stepper motors are generally used in a variety of applications where precise position control is desirable and the cost or complexity of a feedback control system is unwarranted. Here are a few applications where stepper motors are often found:
Printers
3D printer/prototyping machines (e.g. RepRap)
Pick and place machines
Linear actuators
Hard drives
Well Guided about product, and also helps me in my project.
Irshad Sheikh
- March 25, 2021