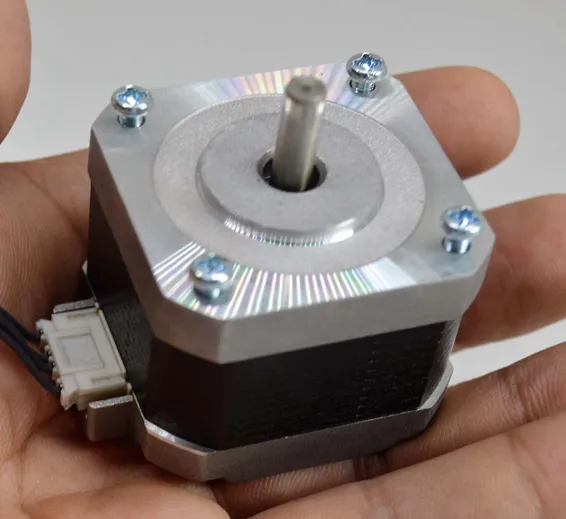 NEMA word defines the standard frames sizes of motor according to number with it like 14, 17, 21, 23, 34 and 43 etc. When we say Nema17 means it's a stepper motor with some specific standard size Which is approximately 1.7 inches, means the width of motor is 1.7 inches from both sides like for Nema23 its 2.3 inches. NEMA number don't define the height of motor. Nema17 comes in various heights color and appearance.

The bipolar (one winding per phase) stepper motors have four wires to connect to the motor. A basic 4-wire stepper motor have 2 coils in it which means there are 2 starting points and 2 ending points and we usually define them as A+, A-, B+ and B- and we call them phase too as we know 4 wire stepper motor is a 2phase stepper motor so it can be phase A, phase A', phase B and phase B'. these days mostly Chinese stepper motor drivers are for bipolar motors means 4wire but in case you have 6 wire stepper motor drivers then you can convert your 4wire motor into 6 wire motor and vise, versa. There's no difference between 4wire stepper motor and 6 wire stepper motor they both can we used with 4 wire stepper motor drivers because the 2 extra wires in motor are the midpoint of each coil which have its own benefits if we use it with 6 wire stepper motor drivers. Now come to the applications of this motor. Nema17 stepper can be used where we need to control the speed(rpm) with accuracy like 3D printers, small CNC machines, CNC routers, PCB milling machines, medical equipment and in various student projects etc.

NEMA 17 Stepper Motor 4 wire Bipolar is very useful in various applications, especially which require low speed with high precision. Stepper Motor NEMA 17 used in many machines such as 3D Printers, CNC Router and Mills, Camera Platforms, XYZ Plotters, etc. Stepper Motor NEMA 17 4 wire Bipolar is High precision 4–wire bipolar stepper motor, size in Nema 17, 1.8 deg. step angle (200 … is one of the most parameters for the stepper motor. You can use the A4988 or drv8825 driver to run this motor.
Features Of NEMA 17 Stepper Motor :
Stepper motor is known by its property to convert a train of input pulses into a precisely defined increment in the shaft position.
NEMA 17 Stepper Motor is a high-quality motor that can be used for a long time without stuck.
Stepper Motor NEMA 17 has a quite stable performance during work and will not lose a step.
NEMA 17 Stepper Motor has a Low noise and big torque, this is a great choice if you need a stepper motor.
Stepper Motor NEMA 17 can be widely used for a 3D printer, CNC engraving machine, etc.
Specifications of NEMA 17 Stepper Motor :
Shaft Dia= 5mm
Step Angle: 1.8°
Phase Current: 1.2A
Phase Resistance: 1.5Ohm
Phase Inductance: 2.8mH
Holding Torque: 40N.cm
Braking Torque: 2.2N.cm
Rotor Inertia: 54g.cm⊃2;
Wire: 4(Blue, green, black, red)
Max. Temperature Rise: 80℃ (rated current, 2 phase on)
Operating Temperature: -20℃~+70℃
Insulation Resistance: 100 MΩ Min. , 500VDC
Radial Clearance: 0.02Max. (450g-Load)
Axial Clearance: 0.08Max. (450g-Load)
Max. Radial Pressure: 75N (20mm from the flange)
Max. Axial Pressure: 15N
Best online electronics store to buy NEMA 17 Stepper Motor 4 wire Bipolar at a reasonable price in Lahore, Karachi, Faislabad, Peshawar, Multan, KPK, Islamabad and all over Pakistan.
Good Quality Product.
Nibrass
- January 14, 2021
Haroon Khalid
- March 26, 2021