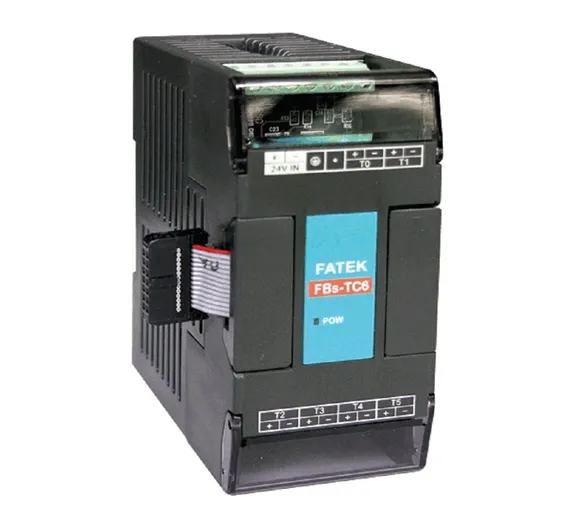 PLC & Modules
FATEK PLC FBs-6TC 6 Channel Thermocouple Temperature Input Module in Pakistan
SKU: RAWLIXFAT
FBs-TC6 is one of the temperature input modules of FATEK FBs series PLC. It provides 6 channels of thermo-couple
temperature measurement
input with 0.1 ℃ or 1 ℃ resolution. The scan rate for 0.1 ℃ resolution is 4 seconds, while the scan rate for 1 ℃ resolution is 2 seconds. The cold junction compensation is carried out inside the module, also it provides a wire broken detection feature. To give the user more choices for the selection of thermocouple type and in order to enhance the noise immunity, the isolation scheme is a per-channel basis. All the optional features of this module are software configurable, there are no hardware jumpers or switches for user to setup.
Specification
FBs-6TC
Number of input points
6 points
Sensor type and
temperature measurement
range
Thermocouple Sensor:
J (-200~1200˚C) E (-190~1000˚C)
K (-190~1300˚C) T (-190~380˚C)
R (0~1800˚C) B (350~1800˚C)
S (0~1700˚C) N (-200~1000˚C)
S ( 0~1700°C ) N (-200~1000°C)
Temperature Compensation
Built-in cold junction compensation
Resolution
0.1°C
Temperature refresh time
2 or 4 seconds
Overall Precision
± (1%+1°C)
Isolation method
Transformer(power) and photocouple(signal) isolation, 500VAC, 1 minute,isolation between each channel
Power consumption
24VDC -15%/+20%,2W max.
Wiring mechanism
3.81 mm european terminal block
Data Sheet:
http://www.fatek.com/en/data/ftp/PLC/FBs_Datasheet/cat_TC6_en.pdf
Package Include:
1XFATEK PLC
FBs-6TC
6 Channel Thermocouple Temperature Input Module