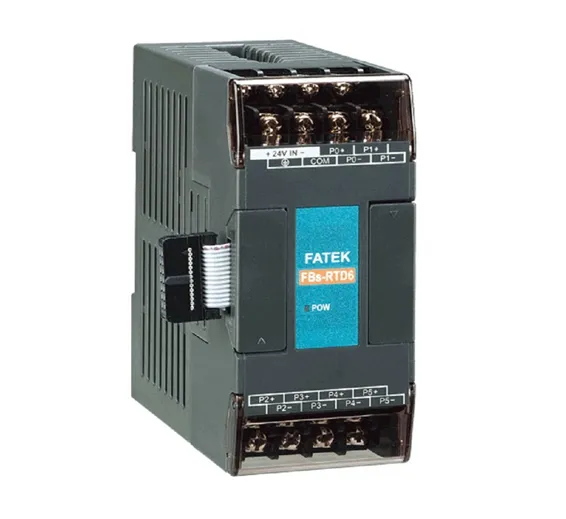 PLC & Modules
FATEK PLC FBs-6RTD 6 Channel RTD Temperature Input Module in Pakistan
SKU: RAWLIXFAT
FBs-RTD6 is one of the temperature input modules of FATEK FBs series PLC. It provides 6 channels of RTD
temperature measurement
input with 0.1 ℃ or 1 ℃ resolution. The scan rate for 0.1 ℃ resolution is 2 seconds, while the scan rate for 1 ℃ resolution is 1 second. This module provides a three-wire connection for RTD temperature sensor, thus can automatically compensate the resistance introduced by the wiring. All the optional features of this module are software configurable, there are no hardware jumpers or switches for user to setup.
Specification
FBs-6RTD
Number of input points
6 points
Sensor type and
temperature measurement
range
3-wire RTD sensor (JIS or DIN)
Pt100(-200~850˚C)
Pt1000(-200~600˚C)
Temperature Compensation
─
Resolution
0.1°C
Temperature refresh time
1 or 2 seconds
Overall Precision
± 1%
Isolation method
Transformer(power) and photocouple(signal) isolation, 500VAC, 1 minute,no isolation between each channel
Power consumption
24VDC -15%/+20%,2W max.
Wiring mechanism
7.62 mm fixed terminal block
Package Include:
1XFATEK PLC
FBs-6RTD
6 Channel RTD Temperature Input Module