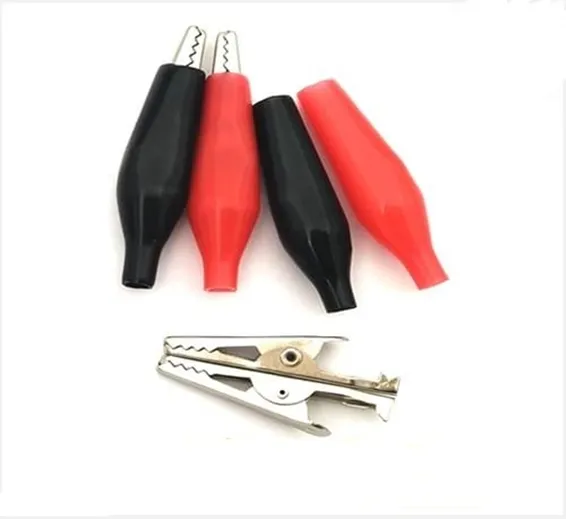 SKU: SB 95,TMD100,Th50,KRT
Crocodile Clips Set (also alligator clip) is a sprung metal clip with long, serrated jaws. Crocodile Clips Set which is used for creating a temporary electrical connection. This simple mechanical device gets its name from the resemblance of its jaws to that of an alligator's or crocodiles. It is used to connect an electrical cable to a battery or some other component. Functioning much like a spring-loaded clothespin, the clip's tapered, serrated jaws are forced together by a spring to grip an object. When manufactured for electronics testing and evaluation, one jaw of the clip is typically permanently crimped or soldered to wire or is bent to form the inner tubular contact of a ~4 mm female banana jack, enabling a quick non-permanent connection between a circuit under test and laboratory equipment or to another electrical circuit. The clip is typically covered by a plastic shroud or "boot" to prevent accidental short-circuits.
Features of Crocodile Clips Set:
These alligator clips are rust and corrosion resistant, anti-oxidation, very durable for long time use. Commonly used as miniature clamps to hold parts together for glueing and wires together for soldering.
All alligator clips are made of high-quality metal materials, with good electrical conductivity, making it smooth and will not damage the wire; the insulating sleeve makes the operation safer and more convenient.
The colour of the PVC helps you to identify the positive and negative charge. With thickened Red & black insulated PVC jacket to help prevent shock danger when working with electronics.
The mental clamps are made of nickel-plated iron material and good electrical conductivity.
Sleeves are high-quality PVC, high-grade flame retardant, environmentally friendly and non-toxic.
Crocodile clips are often used in school physics laboratories to quickly and cheaply mount circuits. Components are useful for connecting wires.
Perfect replacement parts for repairing broken cables on test equipment and chargers or making your own low-voltage jumpers.
Suitable for home, automotive use, perfectly used for DIY soldering helping hands device, household soldering tool and electrical testing tool.
Specification of Crocodile Clips Set:
Sleeve Material: PVC
Clamp Material: Nickel Plated Iron
Function: Electrical Test
Clamp Length (no sleeve): 35mm / 1.37 "
Arm colour: red and black
Package Contents: