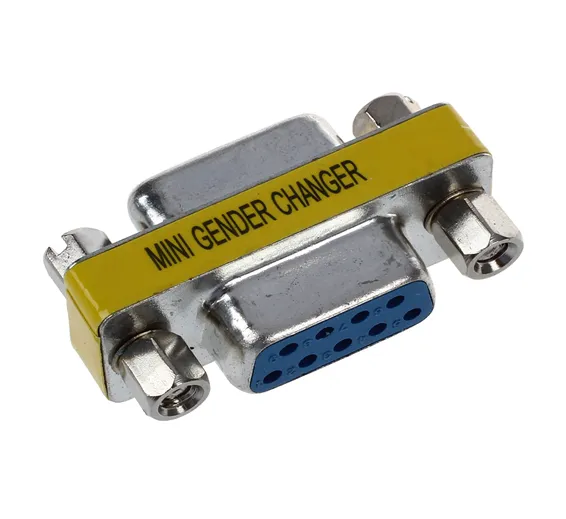 Description:
For connecting two male DB9, Serial, or RS-232 ends together, you can't go wrong with the DB9-FF. They are also frequently called "gender changers" or "gender benders." This professional coupler features two DB9 female jacks. DB9 is most frequently seen as the data connection for older printers, machinery, and computers or as the network interface in modern entertainment centers and home automation. The machined pin threads provide a tight, secure slot for tightening down cable screws. When the cables are firmly seated in place, this coupler can dependably hold the connection despite any pulling, tugging, or pressure. These connections are generally used strictly for data.
These DB9 couplers can be used with any of 9-pin serial cables, splitters, or adapters for customized display solutions. In most cases, DB9 cables can be run fairly long distances, so feel free to extend without worries. It doesn't matter to us how long you plan for your cables to be joined, either. You can still enjoy our picture-perfect match of low prices and high performance.
Specifictaions:
DB9 Female/Female Mini Gender Changer - Coupler
This DB 9 Female/Female gender changer converts a female cable or port into Female.
It allows two male cable to be connected.
Features:
Convert a DB9 female connection to a DB9 female connection, use for serial applications
Low profile to save space! Quickly change the gender, or join two cables together
Save the cost and hassle of buying a new cable by just changing the gender of your port and using the cable you already have
Each changer is molded and fully shielded, preventing any unwanted EMI/RFI interference caused from office equipment
Small and simple design provide convenience for carrying and storing, easy to use and intall
Package Includes:
One Mini Gender Changer Female