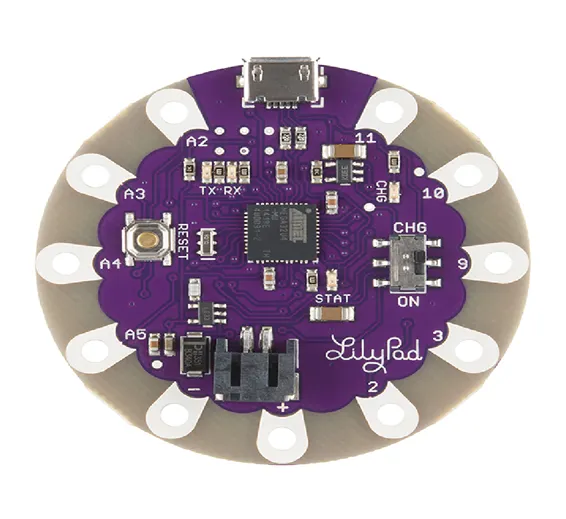 Arduino
Arduino LilyPad ATmega32U4 In Pakistan
SKU: SB178,D155,IMP,L,Th,KRT
Best Online Shopping website for Arduino. Here you get Arduino LilyPad at a reasonable price in Karachi, Lahore, Islamabad, Rawalpindi, Peshawar, Multan, Quetta, Faisalabad and all over Pakistan. This is the LilyPad Arduino USB board, controlled by an ATmega32U4 with the Arduino bootloader. It has a built in power supply socket and an on/off switch with the only extra piece of hardware you need to program the LilyPad USB is a micro-USB cable, since the new IC has built-in USB support. Any of our LiPo batteries can be plugged right into the JST socket to provide you with easy, on-the-go power. That LiPo battery is even rechargeable through the board, no more special external LiPo chargers required!
Just like the LilyPad Simple, this board operates at 3.3V and features a JST socket so you can directly connect a Li-Po battery for power and an on-board power switch so you can turn it off when you're not feeling particularly blinky. The LilyPad Arduino USB was designed to streamline your next sewable project by keeping things simple and giving you more room to work while eliminating the need to sew a power supply.
LilyPad is a wearable e-textile technology developed by Leah Buechley and cooperatively designed by Leah and SparkFun. Each LilyPad was creatively designed to have large connecting pads to allow them to be sewn into clothing. Various input, output, power, and sensor boards are available. They're even washable!
Specifications of the LilyPad Arduino USB board
Microcontroller: ATmega32u4
Flash memory: 32 kB, of which 4 kB are used by the bootloader
SRAM: 2.5 kB
EEPROM: 1 kB
Operating voltage: 3.3 V
Input voltage: 3.8–5 V
Digital input/output pins: 9
PWM channels: 4
Analogue input channels: 4
Direct current per I/O pin: 40 mA
Clock speed: 8 MHz
Resources for the LilyPad Arduino USB board:
Below you will find some documents that will help you get started with the LilyPad Arduino USB board:
LilyPad Arduino USB EAGLE files
Diagram of the LilyPad Arduino USB board
Package includes:
1xArduino LilyPad Arduino LilyPad USB ATmega32U4 Board