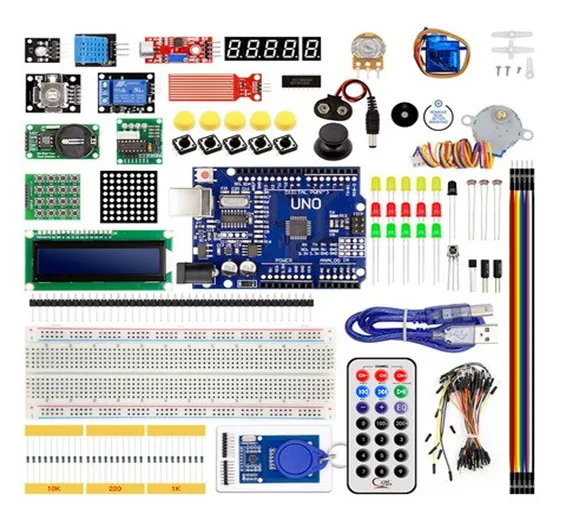 Arduino
RFID Arduino Starter Kit in Pakistan
SKU: TMD,Th,KRT
RFID Starter Kit in Pakistan Starter Kit walks you through the basics of using the Arduino & RFID in a hands-on way. You'll learn through building several creative projects. The kit includes a selection of the most common and useful electronic components with a book of 15 projects. Starting the basics of electronics, to more complex projects, the kit will help you control the physical world with sensors and actuators.
RFID Starter Kit in Pakistan Packages Includes:
1X UNO R3+USB cable
1X 65PCS/pack BREADBOARD JUMPERS
1X830 Points HIGH QUALITY BREADBOARD
15XLED (Red, Green, Yellow)
30X Resistor(220R, 10K, 1K)
1X 10 Wire Male to Female Jumper Wire
1X Potentiometer
1X Active Buzzer
1X 74HC595N
1X Infrared Receiving Head
1X Temperature Sensor (Thermistor)
1X Flame Sensor
1X Roll Ball Switch
3X 5mm LDR
5X Push Switch with Cap
1X IR remote control
1X Four digital 7 segment display
1X One digital tube
1X 8*8 Dot Matrix
1X UNL2003 driver board
1X 5V Stepper motor
1X SG90
1X LCD1602
1X PS2 GAME JOYSTICK
1X DHT11 Digital Temperature and Humidity Sensor
1X Water level measurement module
1X RFID module
1X RFID KEY RING
1X RFID CARD
1X SOUND MODULE
1X 1RELAY MODULE
1X RTC Module
1X Matrix Keyboard
1X RGB Three Color LED
1X BOX
Note:
Please follow the list of products, not Image.