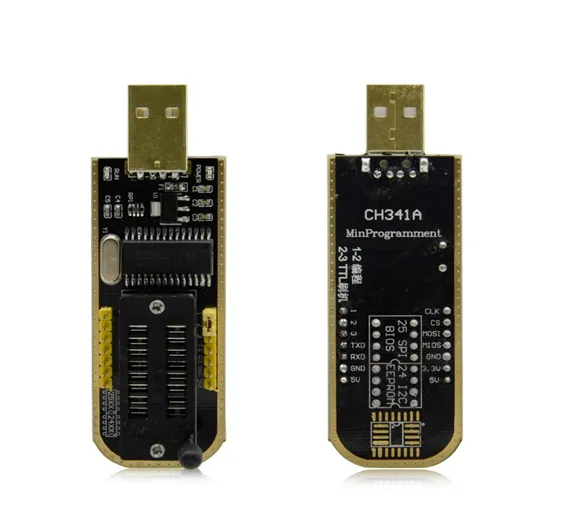 Arduino
CH341A Programmer For Dish TV, Laptop Memory IC's
SKU: SKU: B 210 , D 67,IMP50,L5,Th10,KRT10,N60
This low-cost mini USB CH341A Programmer is intended to support 24 EEPROM and 25 SPI flash 8pin/16 pin chip. CH341A Programmer is equipped with CH 341A chip, can automatically recognize 25 series chip, and its 24/25 series indicator lamp enables the user to easily recognize the module's working status. This CH341A Programmer is awesome and user-friendly because it supports USB to TTL conversion and the SOP8 SOP16 to DIP8 converter board makes the connection with different chips easily.
CH341 is a USB bus convert chip, providing UART, printer port, parallel and synchronous serial with 2-wire or 4-wire through USB bus. In UART mode, CH341 provides alternant rate control signals such as serial transfer enable, serial receive in ready etc. It also supplies common MODEM communication signal in order to expand UART for a computer or upgrade common synchronous interface device to USB bus directly.
In printer port mode, CH341 supplies standard USB printer port which compounds USB relevant protocol and Windows operating system used to upgrade the ordinary parallel printer to USB bus directly. In parallel mode, CH341 gives out 8-bit parallel in EPP or MEM mode. It can be used to input/output data directly without MCU/DSP. Besides, CH341A also supports some common synchronous serial such as 2-wire (SCL, SDA) and 4-wire (CS, SCK/CLK, MISO/SDI/DIN and MOSI/SDO/DOUT) interface.
Click on the picture to see suitable socked to program 25q32
Package Includes:
1x CH341A 24 25 Series EEPROM Flash BIOS USB Programmer
2x Header pins
1x PCB board