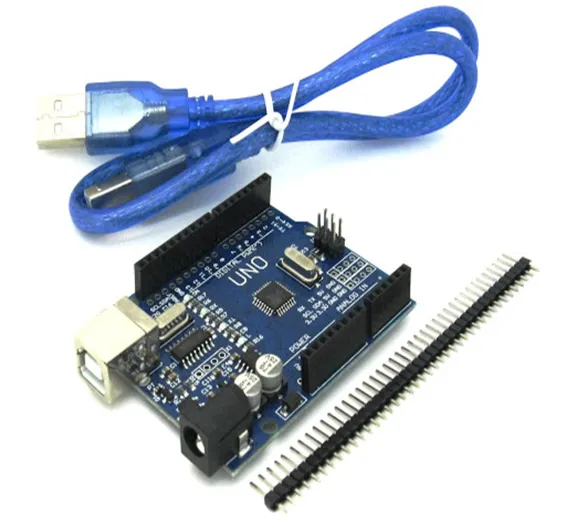 Arduino
Improved Arduino Uno R3 Board KIT With USB Cable
SKU: B62,D159,IMP100,Th50,KRT05,126,N20
This is improved Arduino Uno R3 is one of the latest version of Arduino Uno with an on-board CH340 USB - serial converter chip. This provides you a cheaper opportunity to get started with Arduino boards. The microcontroller model of this board is the same as the original one (Atmega328). The only difference between microcontrollers is the package. The original one has a DIP package but the clone one has an SMD package microcontroller. It's more powerful as compare to the dip version.
Specifications Of Arduino Uno:
ATmega328-AU microcontroller with UNO Bootloader Installed.
USB Programming Facilitated by the CH340G.
USB-B Connector and cable included.
Input voltage - 7-15V.
0-5V outputs with 3.3V compatible inputs.
14 Digital I/O Pins (6 PWM outputs).
6 Analog Inputs.
ISP Header.
32k Flash Memor.y
16MHz Clock Speed.
All SMD Construction.
R3 Shield Compatible
Features:
Main Changes from the older version:
Add two rows of the holes for the pins. So it can be connected with a normal Dubond line.
Add 3 rows of the holes for wiring.
Change the in-line package of ATMEGA328P to flat package.
CH340G Replace ATmega16U2
Plug the UNO development board, the driver will be automatically installed.
select the board UNO inside the die.
Select the COM port, this can be in my computer queries, just inside your UNO port development board
You'd better choose Arduino own routine procedures, burn into the board
Package Includes:
Rawlix is Best Online Shopping website for electronics, Here you get Arduino Uno R3 Board KIT at a reasonable price in Karachi, Lahore, Islamabad, Rawalpindi, Peshawar, Multan and All over Pakistan.