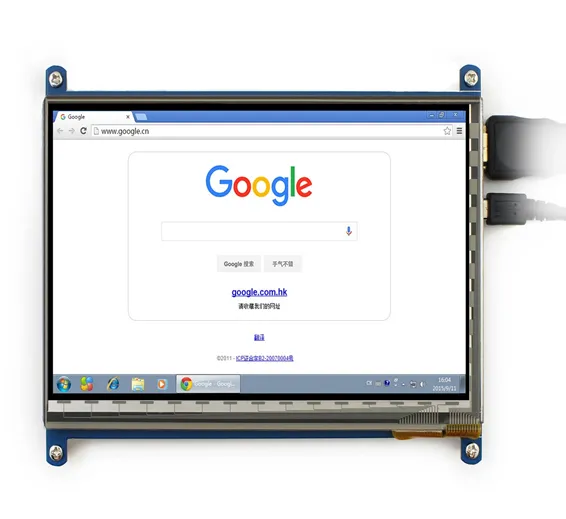 This 7" Capacitive Touch Screen LCD enhances the UI experience in any project. It supports various systems such as Raspberry Pi, Banana Pi, Banana Pro, BeagleBone Black etc. The built in HDMI interface enables the display to work as computer monitor just like any other HDMI screen. Display comes with preloaded Raspbian driver and Ubuntu image. While the display is controlled over the HDMI interface the touch control is done via USB interface. To reduce the power consumption backlight of the display can be switched on/off as per user preference. NOTE: Touch function is unavailable when the display module is controlled via HDMI interface alone.
Features:
800×480 high resolution
Capacitive touch control
Supports Raspberry Pi (Including Pi 3) , comes with Raspbian driver (works with your Raspbian directly), and Ubuntu image
Supports Banana Pi / Banana Pro, comes with Lubuntu, Raspbian images
Supports BB Black, comes with Angstrom image
HDMI interface for displaying, USB interface for touch control
Back light control to lower power consumption
Dimensions: 165x107 (MM) Supported Mini PCs:
Mini PC Driver Image Raspberry Pi B Raspbian Raspbian Raspberry Pi A+ Raspbian Raspbian Raspberry Pi B+ Raspbian Raspbian Raspberry Pi 2 Model B Raspbian Raspbian, Ubuntu Raspberry Pi 3 Model B Raspbian Raspbian, Ubuntu Banana Pi - Raspbian, Lubuntu Banana Pro - Raspbian, Lubuntu BB Black - Angstrom
Package Includes:
1x 7inch HDMI LCD (C)
1x HDMI cable
1x USB type A plug to micro B plug cable
Resources:
rhydoLABZ-wiki
RPi Image Installation
Libraries Installation
NOTE: Drivers can be added to your current system to support LCD display and touch control. Kindly refer the wiki page for installation procedure and other details.
SKU:

IMP,L,Th5,KRT134

/
Category: Displays
/